Call us toll-free now
Book with an expert for free:
1 778 807 9750
Too much? We'll call you. Drop your number in the box:
24 hours a day, 7 days a week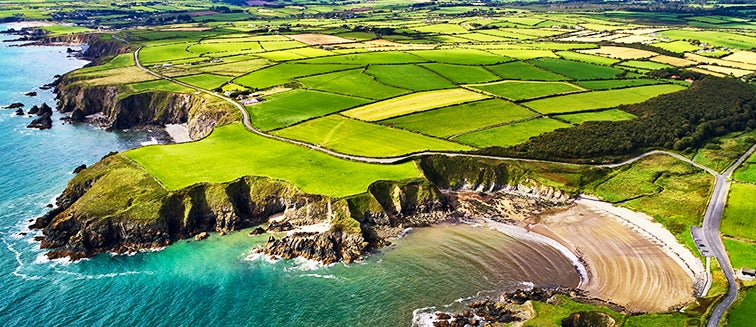 What to see in Ireland
Waterford
Tourist attractions Waterford
Ireland's first city, Waterford has a rich Viking heritage, as it was the first of the invader's settlements and founded in the 10th century. Situated on the southeast coast of Ireland in the province of Munster, the city is known for it's fine 'Waterford Crystal', craft beer and local cuisine such as it's melt-in-your-mouth 'Blaa' rolls.
Most visitors travel to Waterford to delve into it's Viking past. It's location, just 7-miles from the coast and sat on the banks of the River Suir, made it a logical choice for maritime conquest and it served as the gateway to Ireland for centuries.
Reginald's Tower, standing at 54 feet and found on the riverfront in the 'Viking Quarter', is the oldest urban civic building in Ireland and the only urban monument to retain a Viking name. The imposing structure was built upon the site of a Viking Fort, following the conquest of the city by Anglo-Norman invaders.
It contrasts with the nearby stunning William Vincent Wallace Plaza, a symbol of modernity in Waterford. History lovers can also enjoy learning about the Cromwellian siege of Waterford during the years of English Civil War and delve into more distant history in the city's Medieval Museum and the Waterford Museum of Treasures. Waterford's past is ever-present to visitors as segments of the ancient city wall can be found throughout the city.
The sometimes sleepy Waterford comes to life in the summer, when heritage festivities and street performers entertain locals and tourists alike. Strolls along the harbor are the perfect pastime for sunnier days, whilst there are plenty of old-world pubs to stay warm in during the winter.
Waterford has an ever-growing food and drinks scene, with exciting bistros and artisan beer houses opening regularly, making it an excellent destination for a taste of Ireland without the busyness of the bigger cities.
OUR BEST TRIPS TO WATERFORD
Copyright 2013-2023 Exoticca. All Rights Reserved.
Exoticca Travel Canada Inc 229 Yonge St Suite 400 Toronto, Ontario M5B 1N9 Canada