Call us toll-free now
Book with an expert for free:
1 778 807 9750
Too much? We'll call you. Drop your number in the box:
24 hours a day, 7 days a week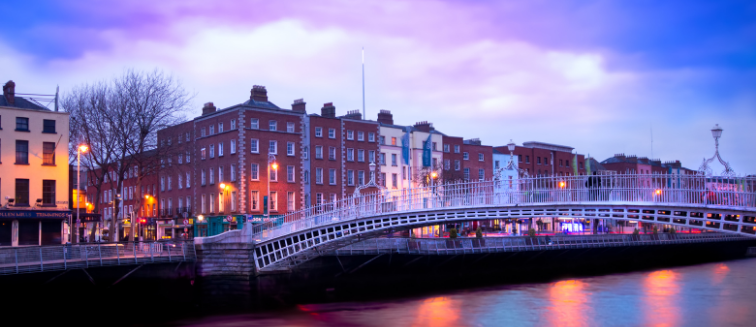 What to see in Ireland
Dublin
Tourist attractions Dublin
The most popular entry point into a vacation package to Ireland and a favorite for weekend breaks, Dublin is a thriving capital city and the perfect place to unwind and immerse yourself in the good nature and fun-loving culture of Ireland.
Home to around a third of Ireland's population, the hustle and bustle of the city only adds to its playful atmosphere where Gaelic heritage mixes with cosmopolitan culture in a city that is as diverse as it is historic.
The city is split in half by the River Liffey, and both the north and south sides of the city retain their own atmosphere. A number of bridges, some showcasing impressive modern architecture whilst others nod to Dublin's historic past, link the two sides and a stroll along the harbor provides a pleasant contrast to the lively cobblestoned streets of the interior.
Grafton Street, on the south side, is the main shopping street, lined with competing buskers whose music provide a jovial atmosphere. Within the same neighborhood of Temple Bar, you can barely walk a few steps without being tempted into any number of cozy bars and pubs, brimming with friendly locals and excitable visitors.
Those who go on a holiday package to Ireland will discover that pub-culture is alive and well in Dublin, with over 700 taverns to choose from. Musical performances to suit all tastes are plentiful. The city also has an increasingly diverse and trendy gastronomic scene, with a fantastic mix of global cuisine thanks to its cosmopolitan population and even a thriving Chinatown around the Capel Street area.
Medieval castles and cathedrals, such as Dublin Castle and St. Patrick's Cathedral, open the eyes of visitors to the long history of the city, whilst the quaint Georgian streets show the long-lived British influence in Ireland.
St. Stephen's Green is a pretty green space amongst the hustle and bustle of the city center with a palatial Victorian layout. Other sights such as the 11th-century Christ Church and Chester Beatty Library are popular with visitors, whilst Kilmainham Gaol provides great insight into the struggles of the 1916 Easter Rising.
Sightseers will find that the city is small enough to explore on foot whilst an easy to use city bicycle hire system is well suited for sunny days, although rare for the rainy Irish climate.
Copyright 2013-2023 Exoticca. All Rights Reserved.
Exoticca Travel Canada Inc 229 Yonge St Suite 400 Toronto, Ontario M5B 1N9 Canada