Call us toll-free now
Book with an expert for free:
1 778 807 9750
Too much? We'll call you. Drop your number in the box:
24 hours a day, 7 days a week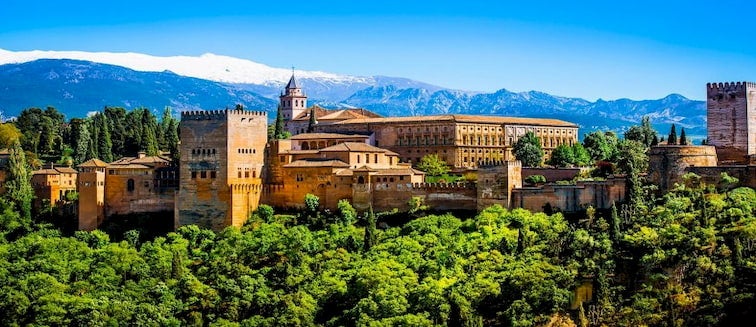 What to see in Spain
Granada
Tourist attractions Granada
Granada is located in the community of Andalusia, at the foot of the breathtaking, snow-capped Sierra Nevada mountains, yet only a short drive away from the sun-soaked beaches of the Costa Tropical.
It is most famous for its Moorish past as the last stronghold of the Islamic Caliphate in Spain. The remnants of this fascinating epoch in the city's history, such as the famous Alhambra Palace, attracts a large number of tourists who make sure to visit during their holiday to Spain.
The city also retains its charming Albayzia district, a historic Arab quarter home to traditional houses and buildings. The amazing backdrop and hilltop location, melting pot culture and one-of-a-kind architecture make a trip to Granada an unmissable part of any tour of Spain. Within Spain, the city is known for its huge student population due to the prestigious University of Granada, founded in 1531. 
What to see in Granda
Anyone enjoying a visit to Granada will be excited to visit it's emblematic Alhambra. This famous fortified hilltop complex showcases Moorish architecture in Spain and dates back to the 13th-century, although Roman remains were already present on the site at this time.
The Sultan of Granada opted to transform the site into a royal palace and fortification, due to the hilltop location, providing the perfect vantage point to spot oncoming reconquista forces. Inside you can expect to see intricate wall decorations and bas-reliefs featuring traditional Islamic calligraphy, floral designs and geometric patterns, as well as characteristic arched doorways and tranquil courtyards.
Aside from the amazing Alhambra, the Cathedral of Granada and adjoining Royal Chapel tell the story of a different era in Granada's history. This 16th-century Roman Catholic cathedral and chapel are the burial place of the Spanish monarchs King Ferdinand and Queen Isabella I, and it was built on the site of a former mosque, in an impressive Baroque style.
One of the most interesting parts of a tour of Granada is discovering the more discreet influences of the city's diverse past on its landscape, such as the Gate of Elvira in the old town, still remaining after almost 1000 years, this 11th-century city gate bears all the design hallmarks of its Arabic creators.
Finally, to admire both the landscape and architecture of Granda, head to the Mirador San Nicolas, a popular viewpoint from where you can watch unforgettable sunsets over the mountains, with the silhouette of the Alhambra in sight.
OUR BEST TRIPS TO GRANADA
Copyright 2013-2023 Exoticca. All Rights Reserved.
Exoticca Travel Canada Inc 229 Yonge St Suite 400 Toronto, Ontario M5B 1N9 Canada