Call us toll-free now
Book with an expert for free:
1 778 807 9750
Too much? We'll call you. Drop your number in the box:
24 hours a day, 7 days a week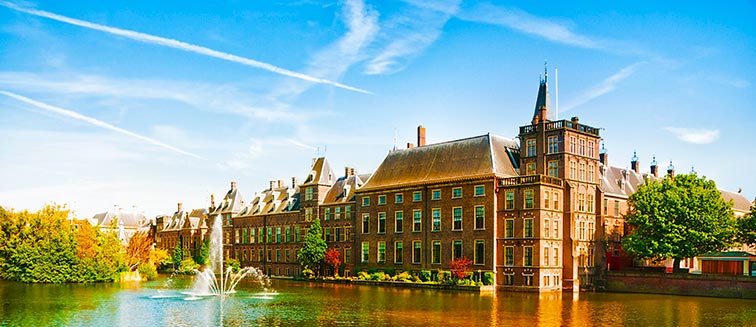 What to see in Holland
The Hague
Tourist attractions The Hague
Known as the 'Royal City by the Sea', The Hague is the famous seat of the Dutch Parliament, which sits on the picturesque North Sea coast. With cobbled streets, canals and magnificent historic districts filled with majestic buildings, The Hague stands out as a city that has held onto its traditional aesthetic despite its importance as a destination of global law. The UN International Court of Justice and the International Criminal Court are located within the city, along with the Binnenhof, the Gothic style complex where the headquarters of Dutch Parliament is located. Water plays a big role in the cityscape of The Hague, as the North Sea laps on the shore of Scheveningen, the coastal district, canals wind their way through the city, and the glistening Hofvijer lake, which surrounds the Binnenhof like a moat, is the perfect place to take atmospheric photos of the historic buildings reflected in the water. During the icy winter months, as the North Sea blows cold winds into the city, the Hofvijer often freezes over and becomes a popular ice-skating rink.
Undoubtedly, the highlight of a tour of The Hague is a visit to the Peace Palace, where the UN International Court of Justice is located. It is here that the symbolic eternal peace flame burns uninterrupted and where visitors can reserve a guided tour of the courts and complex itself. There is also a World Peace Path, composed of stones of great historical significance such as a part of the broken Berlin Wall and a stone from the wall of Nelson Mandela's cell from when he was imprisoned on Robben Island.
Other sights to discover on a holiday to The Hauge are the grandiose Noordeinde Palace, one of three official palaces of the Dutch Royal Family and the Mauritshuis Museum, an art museum with works of the greats such as Rembrandt, Vermeer & Holbein the Younger. If the weather is in your favor, you can spend the day at the interesting Madurodam Park, which has an intricate display of miniature models depicting Dutch cities. Alternatively, the beach district of Scheveningen has everything you expect from a seaside resort including sandy beaches, a pier, a lighthouse, and a traditional promenade, making it the best part of the city to spend a sunny afternoon.
We don't have any trips to The Hague at the moment.
Subscribe to our newsletter to not miss any trips
In compliance with the Data Protection Regulation, we inform you about your rights in our privacy policy and Cookies policy
Copyright 2013-2023 Exoticca. All Rights Reserved.
Exoticca Travel Canada Inc 229 Yonge St Suite 400 Toronto, Ontario M5B 1N9 Canada