Call us toll-free now
Book with an expert for free:
1 778 807 9750
Too much? We'll call you. Drop your number in the box:
24 hours a day, 7 days a week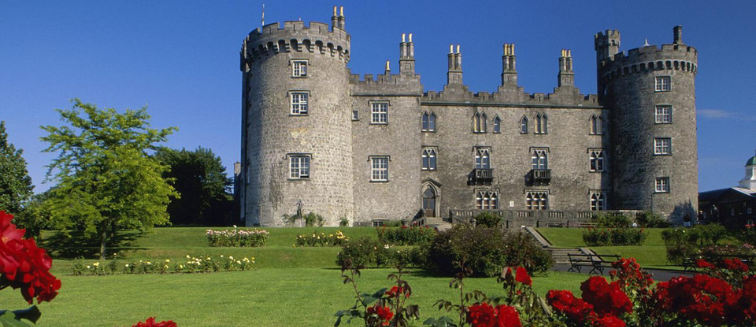 What to see in Ireland
Kilkenny
Tourist attractions Kilkenny
Just 90 minutes by road from Dublin in the county of Leinster, Kilkenny is a well-preserved medieval city with a plethora of ancient sites, religious buildings and a wonderful arts scene. Exploring Kilkenny is like stepping back in time as it charms visitors with its tiny streets and cobblestoned alleyways. Enchanting riverside houses border the River Nore and the steeples of the regal St. Canice's Cathedral can be sighted above the skyline from almost anywhere in the city. Kilkenny Castle is perhaps the biggest attraction of the city, built in 1195 by the Normans as a symbol of their conquest in Ireland. Today the castle charms visitors with its perfectly spherical towers and pretty red-rose lined gardens. The castle has seen maybe conflicts, even in the 20th century during the Irish Civil War, and has consequently changed ownership many times.
Nowadays it is open to the public all year round and houses a fantastic museum with quality reconstructions of the interior decor which effortlessly transports visitors back in time.
Within the city, the Medieval Mile is the perfect trail of discovery for lovers of history who can enjoy a multitude of the city's most interesting sights including the Medieval Mile Museum, Rothe House. and St Canice's Cathedral & Round Tower.Aside from the rich history of the place, Kilkenny has a thriving coffee culture with plenty of artisan cafes and bakeries. The city has been awarded the Irish Foodie Award due to its diverse selection of cuisine. Arts and culture are also important to the city, especially pottery which has a long history in the city and is still active today as local potters create both traditional and modern designs to sell in the local shops.
You'll find the characteristic Irish hospitality in abundance in Kilkenny, especially in the old-world pubs' whos walls are full of history and where traditional folk music is played nightly.
OUR BEST TRIPS TO KILKENNY
Copyright 2013-2023 Exoticca. All Rights Reserved.
Exoticca Travel Canada Inc 229 Yonge St Suite 400 Toronto, Ontario M5B 1N9 Canada