Call us toll-free now
Book with an expert for free:
1 778 807 9750
Too much? We'll call you. Drop your number in the box:
Mon. to Fri.: available 24-hours Sat. and Sun.: 3:00 a.m. - Midnight (EST) Or call your preferred Travel Advisor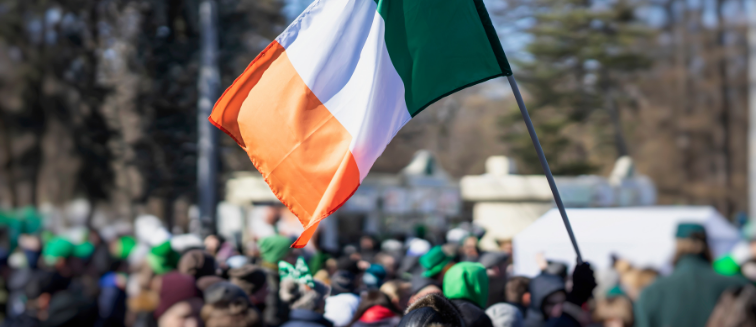 Events and festivals in
Ireland
Events and festivals in Ireland
Travel to Ireland is all about immersing yourself in the local culture, from traditional music to ancient folklore. Ireland's cultural calendar is jam-packed with unmissable events and festivals, whether you're into music, literature or simply want to join in the revelry on St. Patrick's Day! So, if you're planning a trip to Ireland, why not get involved with some of these most popular Irish events and holidays during your travels to the Emerald Isle?
Temple Bar Trad Fest (January)
Music is at the heart of Irish culture, and no other event encapsulates traditional Irish music like the Temple Bar Trad Festival. Born out of the buzzing pub district of Temple Bar in Dublin, this celebration focuses on Irish traditional music, also known as 'trad'. During the last weeks of January, Dublin comes to life in a festival in honour of Irish folk music, and venues across the city host live music events featuring local and international talent. Part of the appeal is the wide range of venues used to host the events, including emblematic Dublin buildings such as the City Hall, St. Patrick's Cathedral and Christ Church Cathedral. 
St. Patrick's Day (March 17th)
Undoubtedly, St. Patrick's Day is the most famous Irish event! This national holiday is celebrated by Irish communities throughout the world, but nowhere does St. Patrick's Day like Ireland! Throughout the country, crowds gather to commemorate the Irish patron saint and the celebration can be traced back as far as the 17th-century. Over the years, this festival has transformed into a celebration of Irish culture in general and the capital city of Dublin hosts the largest, most spectacular parade in the country. Furthermore, this day is known for its good-hearted revelry and consumption of all the best Irish food and drink, such as the much-loved 'black-stuff'(Guinness)! Everyone dresses up in their best green clothes and joins in the fun, so visiting Ireland on St. Paddy's Day is sure to be an unforgettable experience!
Fleadh Nua (May)
A festival of Irish culture, Fleadh Nua takes place in the town of Ennis, County Clare every May. Lasting for around 10 days, the festival consists of all kinds of Irish traditions, from music concerts to communal dancing and street entertainment. The whole town comes to life during this early summer celebration, and visitors flock from all over the country to join in the fun. Irish language workshops, as well as folk storytelling and singing sessions, are free to participate in and help to bring the community together!
Puck Fair (August)
Said to be the oldest fair in Ireland, the annual Puck Fair is one of the quirkier Irish festivals. Held every August 10th-12th in Killorglin, County Kerry, the Puck Fair is an ancient tradition that consists of the following: on day one, a wild male mountain goat is brought into the town and crowned 'King Puck' by a human 'Queen', usually a local girl of school age. The goat is then coronated and reigns as 'King' for three days, presiding over his kingdom from a makeshift throne, on a specially-made platform. These days are filled with revelry and celebrations such as music, Irish dancing and street entertainment. On the final day, the goat is released and returned to his home, marking the end of the celebrations alongside a fireworks display. Surely one of the most curious traditional Irish festivals!
Cork Jazz Festival (October)
One of the most prestigious jazz festivals in the world, Cork Jazz Festival is a musical bonanza that takes place in the scenic southern city of Cork. Held in over 90 venues throughout the city, this celebration of all things jazz has become an unmissable event in Ireland's cultural calendar. Over the years some of the biggest names in the genre have graced the stage of the Cork Jazz Festival, including Dizzy Gilespie, Herbie Hancock and Ella Fitzgerald, and everyone can get a taste of the action with street entertainment, free music trails and workshops taking place across Cork during the festival. One of the most unmissable events in Ireland for music lovers!
Halloween (October 31st)
A little known fact is that Halloween actually originated in Ireland! With its roots in the Celtic festival of Samhain, Halloween is a big deal in Ireland and every October 31st celebrations take place in all the major towns and cities. Party-goers dress up in an array of Halloween costumes to attend music events and little ones head out to go trick or treating. Some cities organise parades and carnivals, whilst ghost tours are also popular for those looking to get into the spooky spirit! Carved pumpkins and orange and black decorations adorn the streets and everyone joins in with the festivities in honour of this popular Irish tradition.
OUR BEST TRIPS TO IRELAND
Copyright 2013-2023 Exoticca. All Rights Reserved.
Exoticca Travel Canada Inc 229 Yonge St Suite 400 Toronto, Ontario M5B 1N9 Canada