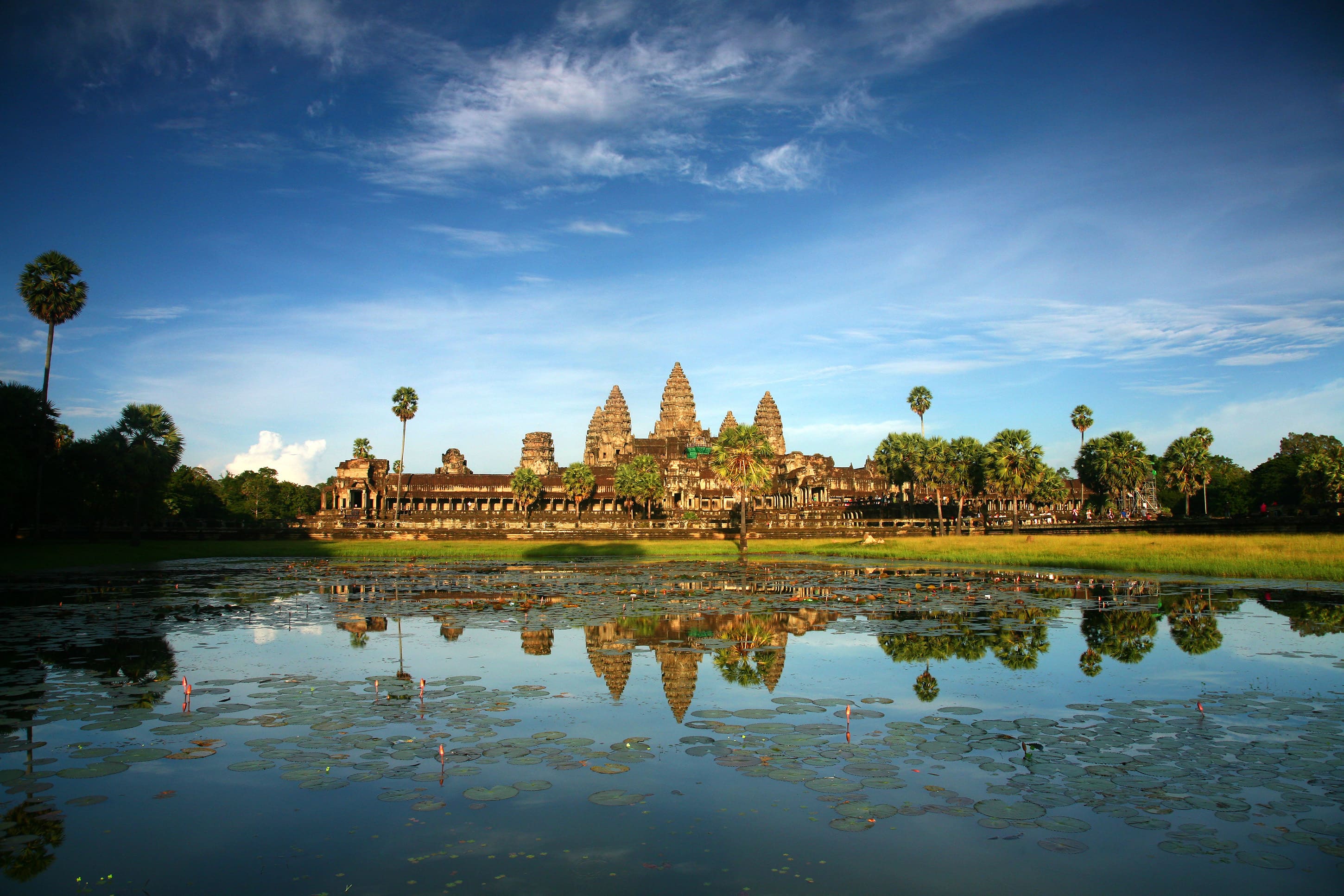 Holidays to Cambodia at -36%
Our recommendation to visit Cambodia
Our recommendation to visit Cambodia and neighboring countries
Halong Bay

Hanoi

Ho Chi Minh

Bangkok
SEE MORE
James
Our classic tour of Southeast Asia, including dynamic cities, ancient temples and inspiring natural landscapes.
Multi country tours including Cambodia
Creating unforgettable memories, one traveler at a time
Awesome experience. I would return in a heartbeat!
Emotionally, I came home feeling humbled by my experiences in Cambodia and Vietnam. The culture and people are so different, it is an eye-opening feeling to explore countries like these. I would definitely revisit. Our trip was fabulous and even better than I had envisioned.
Cambodia Travel advice
Events and festivals in Cambodia

Most of the festivities and events held in Cambodia are related to the history of the country. Many are celebrations of its great Khmer Empire, which had its capital in the most coveted ruins of Southeast Asia: Angkor. Cambodians also celebrate the cycles of nature, for example, a great feast is held to give thanks to Mother Earth after the harvest. Faithful followers of the Buddhist religion, Cambodians also have special dates for Buddhist celebrations, as well as commemorations of the King's anniversary, the declaration of the national constitution and a remembrance of the country's independence from French occupation.

 

GO TO EVENTS

Food in Cambodia

On the basis of a subsistence culinary tradition inherited from the most rural population of Southeast Asia, the Cambodian or Khmer gastronomy has a marked gastronomic influence from China and India and moves between the flavors of the Vietnamese and Thai cuisine.

The Khmer tradition dictates sitting in a lotus position on a rug where all dishes are placed and usually using the hands to eat. Often, the Cambodians abstain from breakfast, enjoying only two main meals throughout the day: a first between 10 and 11 in the morning and another in the form of a dinner around 5 in the afternoon. There is a large variety of ingredients in the traditional Khmer kitchen, often using lots of spices, herbs, curries and spicy dressings. Among the ingredients of their most typical dishes, you can find a wide variety of foods, although the preferences of Cambodians is most often for sour and acidic flavors.

 

GO TO GASTRONOMY

Shopping in Cambodia

Cambodia has a strong tradition of craftsmanship due to economic rehabilitation programs that were initiated in the 1980s, which offered the population incentives for this type of authentic work. Although Cambodia does not have large shopping malls, the central alleys that cross through Phnom Penh offer lots of different markets where you can find unique and charming antiques, handcrafted gifts, silks and silverware, as well as imitation goods. The best-known markets tend to be open at night, such as Sisowath Quay, the Olympic market (located next to the stadium), the Russian market and the Central Market. Another option is Siem Reap, which has a variety of souvenir markets in its centre and many beautiful handcrafted products that are made by the Angkor Crafts Association.

A custom found here, as in the rest of Southeast Asia, is haggling, so the cost always declines from the initial price tag.

 

GO TO SHOPPING
Cambodia tourist attractions
More information about Cambodia
In a Cambodia vacation package, you can truly embrace the magic of Southeast Asia; it's a brilliant adventure travel destination, filled to the brim with enchanting temples, idyllic beaches, and opportunities to immerse yourself in the country's unique and colorful culture. 
The legacy of the mighty and long-lived Khmer Empire is alive in the bucket-list Angkor Wat Complex, an unmissable stop on a tour of Cambodia, whilst the modernity of the cities such as Siem Reap and Phnom Penh offers the traveler all the usual hustle and bustle of Asia, plus excellent cuisine and cosmopolitan culture. 
Located in the southern part of the Indochina peninsula, Cambodia shares borders with Vietnam, Laos, and Thailand, making it the perfect destination for a multi-center tour to Southeast Asia. A majority Buddhist country, it is home to approximately 16 million inhabitants, whose smiles and warm hospitality is one of the aspects that make Cambodia such a brilliant place to travel to. 
Away from the cities and tourist hot-spots, you have countless opportunities to experience the rustic charms of rural Cambodia, with its ethnic minority hill tribes, abundant agriculture, and simplicity of everyday life. This is what makes a tour to Cambodia an experience rather than a box-ticking exercise. Having long been on the radar of the more intrepid backpackers, Cambodia is looking towards the future with optimism as it's now firmly on the map as a must-do travel destination.
History of Cambodia
The country's fascinating history is one of the main attractions to explore on a tour of Cambodia, immortalized in the impressive monuments and the traditions of the people. The first settlements sprung up around 150 AD, in the fertile Mekong Delta region, and by the 9th-century the Khmer Empire was founded by King Jayavarman II. 
At first, Khmer civilization was based on agriculture and animist beliefs until Indian spiritual traditions, such as Hinduism and Buddhism, were introduced by foreign merchants, sparking the construction of brilliant ancient temples such as Angkor Wat, thought to have mapped the cosmic world in stone. 
A tour of Angkor Wat is not only the highlight of most visitors vacation to Cambodia but also the best way to contemplate the glory of the ancient Khmer Empire. By the 16th-century civil war and Thai invasion saw the decline of the empire's power, whilst increasing pressure from Vietnam to the east created a power struggle with Cambodia squeezed in between the two powers. 
The 19th-century marked the retreat of Thai influence from the country but increased numbers of Vietnamese settlers and an influx of French missionaries resulted in Cambodia falling under a French protectorate in 1864. 
Although this was not a positive time for many everyday Cambodian's, the French protectorate increased infrastructure in the country and gave the economy a boost, as well as leaving its influence on the country's culture, something you'll notice if you take a Cambodia tour package, both in the colonial architecture, with its royal palace and national museum, and the national cuisine. 
Cambodia gained independence in 1953, but the nearby Vietnamese War extended into the country, bringing bombings and conflict. A military coup in 1970 installed a right-wing, pro-US Khmer Republic who faced much opposition from Communism groups such as the notorious Khmer Rouge, marking the beginning of a dark period in the country's history. Led by Pol Pot, the Khmer Rouge took power in 1975 and began a campaign of terror and genocide against so-called enemies of the state, including ethnic minority groups and intellectuals. 
Approximately a quarter of the total population was killed during the next three years, many at the fatal Killing Fields. On a package tour to Cambodia, visitors have the opportunity to contemplate this horrific era on several tours and trips around Phnom Penh. Vietnam eventually took control of the country and peace talks began in 1989.
It was not until 1993 that the monarchy was reinstated and today the government is a parliamentary democracy with a constitutional monarchy. On a tour of Cambodia, it is eye-opening and fascinating to consider how far the nation has come after those tumultuous years in the not so distant past.
Nature in Cambodia
With lowlands, mountains, deltas, and vast plains, Cambodia is an adventurer's dream, whilst on the other hand, its 443 kilometers of coastline along the Gulf of Thailand offers tropical beaches and paradise islands, perfect for beach-lovers. The climate is characterized by dry and wet seasons, with tropical monsoons. 
The country's verdant rainforests are home to a rich array of wildlife, as is the mighty Tonle Sap Lake in the center of the country. The diverse nature of the landscapes and natural scenery of the country makes Cambodia tours an exciting experience for all lovers of the great outdoors. 
The Cardamon Mountains in the west of the county are covered in lush rainforest, the largest remaining rainforest in Southeast Asia, home to rare and endangered wildlife such as the elusive clouded leopard and Indochinese tigers. Tonle Sap and its surrounding biosphere reserve are home to unique natural phenomena and charming floating villages. 
Taking a boat trip on Tonle Sap is the ultimate way to immerse yourself in the natural beauty of the region. If you're looking for something more laid-back, head to beautiful Sihanoukville, a popular beach destination adorned with white sandy beaches and palm trees and Cambodia's favorite paradise retreat.
Culture in Cambodia
On a tour of Cambodia, you'll notice how religion is intertwined with the daily lives of almost all inhabitants. Modern Khmer culture is a fusion of traditional animistic beliefs and Buddhism with a touch of French influence too. Unique hill tribe cultures have their cultural traditions adding to the fascinating tapestry of national culture in Cambodia. 
Traditional Khmer architecture, dance, and sculpture are beautiful relics of the country's history; you cannot miss a traditional dance performance during a trip to Cambodia. Today, old and new sit side by side. The cities might feel modern but rural communities continue to live simple lives and keep their ancestors' traditions alive. Around the country, traditional dress is widely worn and has important societal and hierarchical importance indicated in different colors and patterns. 
Embark on a journey to one of Southeast Asia's most exotic destinations. Cambodia charms you with its mix of modernity and tradition and it's impossible to not fall in love with the warmth of the people and the treasures of the ancient Khmer Empire.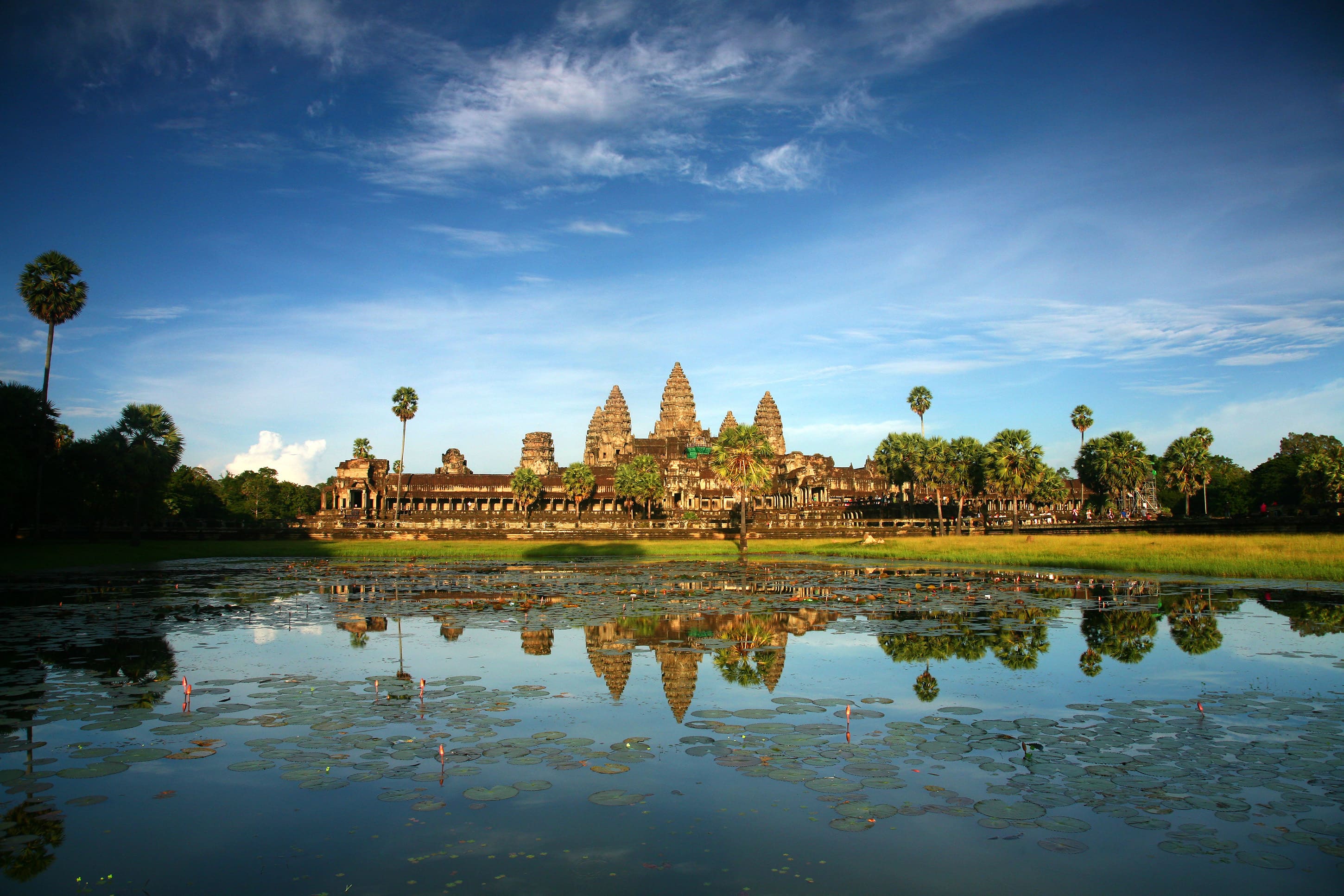 Entry requirements

Your passport must be valid for at least 6 months beyond the date of entry into Cambodia.

Visa

Visa required. You can apply for Cambodia's electronic visitor's visa at https://www.evisa.gov.kh/

Time zone

GMT + 07:00.

Currency

Cambodian Riel.

Language

Khmer.

Tourist Office website

Visit website

Electricity

220 V. Adapter required.

Other useful information

There is free wi-fi in the most popular tourist spots of the country.

Health

Please consult your doctor regarding malaria prophylaxis.
Visit nearby destinations
Receive assistance from one of our travel experts and plan the perfect trip.
Please fill out this form with the information about you and the trip your are planning to do. One of our experts will personally contact you answering all your questions and will offer you the best options according to your needs.
*Required fields

Save time, call a travel expert for free
Allow one of our expert help you to arrange your reservation
Unbelievable prices
Save when buying your next trip thanks to super discounted prices that we negotiate with airlines and hotels.
Free Cancellation
Reschedule or cancel your trip up to 60 days before departure to get your money back in Exoticca travel credit, with zero fees and no questions asked.
Hand-crafted by experts
Each one of our itineraries are designed to ensure you have the best possible experience in every destination.
Our guarantees
Exoticca is a member of ASTA. Our membership means we adhere to ASTA's code of ethics, commitment to quality service, and ethical business practices.