Call us toll-free now
Book with an expert for free:
1 778 807 9750
Too much? We'll call you. Drop your number in the box:
24 hours a day, 7 days a week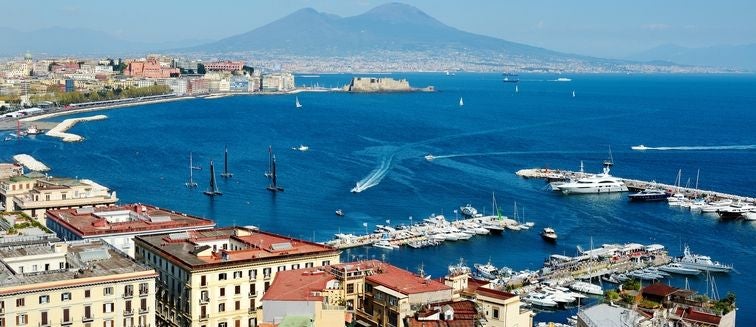 What to see in Italy
Naples
Tourist attractions Naples
A paradise for foodies, Naples, the capital of southern Italy's Campania region, is not only the home of pizza but also a treasure-chest of cultural gems. Castles, palaces and ancient ruins, alongside Caravaggio masterpieces, historic frescoes and atmospheric piazzas make it a haven of Italian culture and an unmissable travel destination. One of Europe's most densely populated cities, Naples sits on the tranquil Gulf of Naples with plenty of modest coves and beaches where you can soak up the Italian sunshine.
The historic centre is a protected UNESCO World Heritage Site. As well as coastal charms and cultural treasures, a holiday to Naples is great for retail therapy with plenty of unique artisan shops and boutiques for souvenirs to suit any individual. Beneath its gritty exterior, Naples has a lot of heart and offers an unparalleled immersion into Italian culture. History is all around in Naples, with the shadow of Mount Vesuvius reminding all who visit of the poignant story of Pompeii.
Its Roman heritage is another highlight of a trip to Naples, evident in the 1st-century Roman Theatre of Neapolis and the spooky San Gennaro Catacombs. A city of indulgence, tuck into the best pasta in the world, stroll along the Lungomare, a pedestrianised seafront walkway, and tantalise your intellectual side to some of the best museums around. 
Highlights of Naples
A huge metropolis, there is an endless number of things to do in Naples. From culture-vulture museums to cheerful beaches, Naples is a treasure-trove and perfect for an action-packed getaway. A good place to start is the Piazza del Plebisato, the staggering main city square, home to the grandiose Royal Palace and the San Francesco di Paolo Church, known for its huge domed ceiling and collonaded entrance.
Of course, Mount Vesuvius is a highlight of any Naples holiday and the most adventurous can savour the opportunity to hike to the top of this historic icon. Back at sea-level, in the shadow of the mighty Vesuvius, are the ruins of Pompeii, the city devastated by the volcanic eruption of 79 AD.
Today, it offers an amazing insight into everyday Roman life. Nearby, Herculaneum is another relic of Vesuvius's eruption and has a lower foot-fall than Pompeii, meaning it might be a good choice if you want to avoid the crowds. Naples National Archeology Museum is an essential stop when it comes to things to see in Naples.
It houses an extensive collection of artefacts dating from the days of the great Roman Empire. Expect ornate marble statues and precious relics. Overlooking Naples' urban sprawl is the hilltop monastery complex of Certosa di San Martino, home to a fascinating museum, ornate interior and beautiful 'hanging gardens'. If you want great views across the city, this is the place to go! Finally, Naples Cathedral is a true icon of the city. This beautiful 13th-century gothic cathedral remains, even today, the seat of the Archbishop of Naples.
Copyright 2013-2023 Exoticca. All Rights Reserved.
Exoticca Travel Canada Inc 229 Yonge St Suite 400 Toronto, Ontario M5B 1N9 Canada