Call us toll-free now
Book with an expert for free:
1 778 807 9750
Too much? We'll call you. Drop your number in the box:
24 hours a day, 7 days a week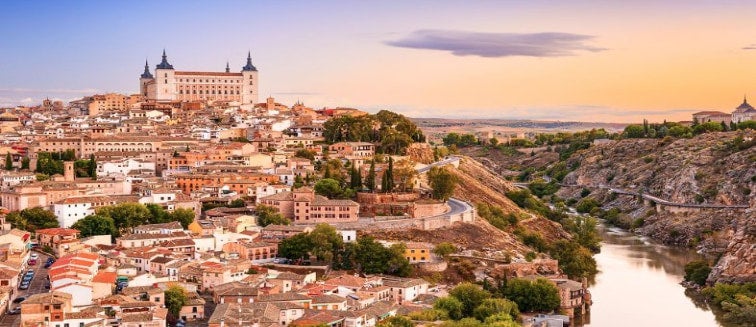 What to see in Spain
Toledo
Tourist attractions Toledo
Situated in the hills of the Castilla-La Mancha community in the center of Spain, the city of Toledo is a UNESCO World Heritage Site city renowned for its historic monuments, buildings and ancient heritage. It is nicknamed the 'City of Three Cultures' because both Christianity, Islam and Judaism are all represented in the city's timeline.
With parts of Toledo dating back to Roman times, it is unsurprising it is a popular stop on tours of Spain. Like Granada, Toledo also bears the Moorish architecture of the Caliphate era as well as a number of majestic imperial buildings dating back to the era when it served as the capital of the Spanish Empire, up until the 16th-century, when the capital moved to Madrid. 
What to see in Toledo 
As a UNESCO World Heritage City, the city exudes history and wandering around the old town you are sure to fall in love with the tranquil riverside of the Tajo River and the well-preserved city walls. Toldeo's most emblematic must-see sight is the Alcazar, a huge square building on the outskirts of the city, with Roman and Spanish architectural influences.
Once a Roman fortress, under the Spanish King Charles I it underwent significant renovation work. Today it is a military museum but the prime attraction is its exterior as each of its facades boasts a different architectural style and dates back to a different period. Another of the city's icons is the Cathedral, built in a Gothic style between the 13th and 15th centuries on the site of a former Visigothic church.
This Roman Catholic cathedral is an unmissable sight if you take a tour of Toledo. The city's diverse past is exemplified in both it's Santa Maria Synagogue and Cristo de la Luz Mosque, the former of which is one of only three remaining synagogues in Spain. The Cristo de la Luz Mosque, on the other hand, dates back almost 1000 years and remains largely unchanged, offering visitors a glimpse into the years of the Islamic Caliphate in Spain. 
Copyright 2013-2023 Exoticca. All Rights Reserved.
Exoticca Travel Canada Inc 229 Yonge St Suite 400 Toronto, Ontario M5B 1N9 Canada