Call us toll-free now
Book with an expert for free:
1 778 807 9750
Too much? We'll call you. Drop your number in the box:
24 hours a day, 7 days a week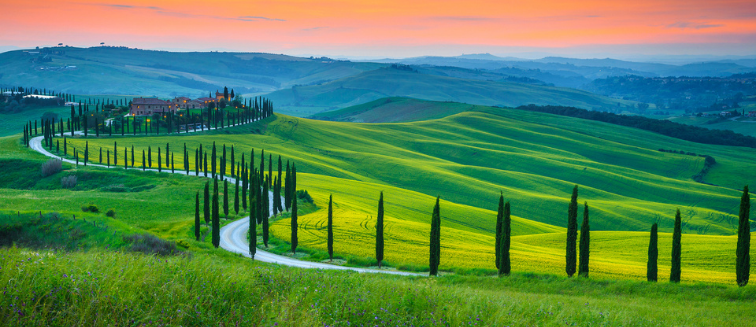 What to see in Italy
Tuscany
Tourist attractions Tuscany
One of the most lusted-after destinations in Italy, Tuscany is a region in the west of the country, with an idyllic coastline on the Tyrrhenian Sea. A haven of soul-stirring landscapes, rolling hills dotted with rustic farmhouses and Renaissance culture, a vacation to Tuscany is a dream come true for both foodies and cultural aficionados alike!
The regional capital is Florence, known for its rich artistic heritage, magnificent architecture and world-renowned galleries, whilst the verdant countryside, awash with vineyards and medieval villages, invite travellers to escape to a simpler time. In fact, Tuscany is one of the most visited regions in the country, thanks to its combination of rural tranquillity and high culture. Furthermore, a collection of charming seaside towns means you can also get your beach-fix if you travel to Tuscany.
You cannot mention a trip to Tuscany without highlight its gastronomic appeal. Tuscan food is delicious, rustic and worth travelling for. From humble farmhouse fare to the fanciful food of Florence's upmarket eateries, Tuscany is famed for its fresh, quality produce and food is deeply entwined with the local culture. Wine also plays an integral role and the region is famous for producing fabulous varieties of Chianti.
With timeless landscapes, a beautiful coastline dotted with pretty islands, and culture-filled eternal cities, a tour of Tuscany is a delight to the senses!
Things to see in Tuscany
There are countless things to see in Tuscany, and if you travel to this region you can take your pick of both cultural sights and relaxing nature pursuits. The Duomo, Leaning Tower of Pisa, Uffizi Gallery and the Towers of San Gimignano are just a few of the cultural attractions to admire on a tour of Tuscany. The cities of Florence and Pisa are unmissable. A day spent wandering the galleries and cathedrals of Florence of contemplating the world-famous Leaning Tower of Pisa is a day well-spent, but the region also boasts an array of lesser-known cities and charming villages to explore.
The medieval city of Siena is a must-see if you travel to Tuscany. Home to the majestic Piazza del Campo, flanked by impressive Gothic buildings, this Tuscan city is known for its annual Palio horseracing event. Furthermore, the historic centre of Siena is a UNESCO World Heritage Site. Achingly romantic and less crowded than Florence, a visit to Siena is sure to a highlight of any Tuscany tour. 
One of the most popular things to do in Tuscany is to stay at an agriturismo, a rural working farmhouse, where you can reap all the delights of the Tuscan countryside! Found throughout the region, these farmhouses range from rustic hilltop hideaways to more luxurious, shabby-chic country houses. Kick-back by the pool, dine on farm-fresh produce, and experience the dolce vita in all its glory!
Montecatini Terme is another of the best places to visit in Tuscany. An enchanting hamlet, nestled in the heart of the Tuscan countryside, Montecatini Terme is known for its healing spring waters and has long been considered an important spa town. People from across Italy and the world travel to this charming place to unwind and enjoy a simpler way of life. Home to medieval streets, historic spas and magnificent art nouveau architecture, a trip to Montecatini is the chance to experience a truly authentic Tuscan town. 
OUR BEST TRIPS TO TUSCANY
Copyright 2013-2023 Exoticca. All Rights Reserved.
Exoticca Travel Canada Inc 229 Yonge St Suite 400 Toronto, Ontario M5B 1N9 Canada