Call us toll-free now
Book with an expert for free:
1 778 807 9750
Too much? We'll call you. Drop your number in the box:
24 hours a day, 7 days a week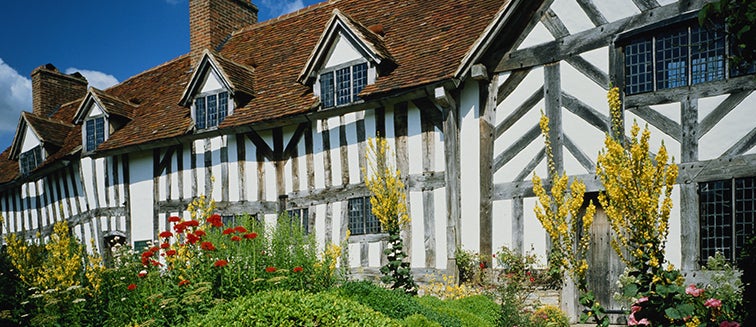 What to see in England
Stratford-Upon-Avon
Tourist attractions Stratford-Upon-Avon
Stratford-Upon-Avon is a small and friendly town of just 25,000 inhabitants. It is located in the county of Warwickshire, southwest England, around 61 kilometres south of the city of Birmingham and 163 kilometres northwest of the country's capital. This historic town is located in the Cotswolds region, a place of exceptional natural beauty that spans multiple counties, known for its rolling green hills, streams and well-preserved villages.
Visiting Stratford-Upon-Avon is the chance to explore the birthplace of the greatest writers of all time: William Shakespeare, author of the popular tragedy Romeo & Juliet, and countless other great works such as Much Ado About Nothing, Macbeth and The Merchant of Venice. The charming historic centre transports you back to the 16th century and to the Tudor era. Its original and well-preserved asymmetrical half-timbered houses and steep gabled roofs are among the architectural highlights of a visit to Stratford-Upon-Avon.
The towns numerous sights related to the life of Shakespeare are the main attractions for visitors planning a trip to Stratford-Upon-Avon, but whether or not you are passionate about literature, you cannot deny the charm of this historic town
Stratford-Upon-Avon not only offers the opportunity to go travel back in time and follow in the footsteps of the great writer but also to soak up the vibrant atmosphere of a traditional English town and watch life unfold in its streets, small shops and restaurants.
Taking a trip to Stratford-Upon-Avon means stepping back into history, revelling in nature, and savouring the tranquillity of the beautiful English countryside. A beautiful, well-preserved and peaceful place, unlike any other!
Things to see in Stratford-Upon-Avon
The main thoroughfare of the town is Henley Street. Strolling down this well-preserved Tudor-era street you'd be forgiven for thinking you have travelled back in time as the architecture and atmosphere seems unchanged since the days of Shakespeare. A bronze sculpture of a harlequin, symbolising the relationship between comedy and tragedy, can also be found here. Continue onto the High Street to explore another of the most important streets in Stratford-Upon-Avon. 
Of course, some of the best things to see in Stratford-Upon-Avon are related to its literary hero, Shakespeare. Full of charm and history, some of the most important Shakespeare-era sights in Stratford-Upon-Avon include Shakespeare's Birthplace where this English legend was born and where you can see some of the original furniture and personal belongings of Shakespeare. Another of the best things to see in Stratford-Upon-Avon is a building known as Shakespeare's New Place. Here you can discover the house where Shakespeare spent his retirement and final years leading up to his death in 1616. 
Harvard's House is another must-see. Built by the Harvard University benefactor's grandfather, it is home to a priceless collection of Shakespeare's printed books. Hall's Croft is a beautiful Jacobean house, which once belonged to Shakespeare's eldest daughter, Susanna, whose rooms are still set out in their original form. 
On the outskirts of town, visitors can explore Anne Hathaway Cottages and Gardens: the house where William's wife lived before they married, as well as Palmer's Farm, a Tudor farm owned by Anne's mother, Mary Arden. Today it is a historical museum dedicated to the daily life of the 16th century where you can enjoy craft and falconry exhibitions.
If you travel to Stratford-Upon-Avon and want to see one of Shakespeare's plays in action, head to the Royal Shakespeare Theatre, where the Royal Shakespeare Company performs year-round performances of some of Shakespeare's best-loved works. 
Away from the Shakespeare-related attractions, there are a number of other interesting places to visit in Stratford-Upon-Avon. Stratford Butterfly Farm is a must-see for lovers of this colourful insect. Here you'll find a huge collection of 250 species of butterfly as well as other insects, housed within a greenhouse to mimic tropical conditions.
Other places of interest to discover on a trip to Stratford-Upon-Avon include the 13th-century Holy Trinity Church and the MAD Museum, which showcases some of the world's best kinetic art.
OUR BEST TRIPS TO STRATFORD-UPON-AVON
Copyright 2013-2023 Exoticca. All Rights Reserved.
Exoticca Travel Canada Inc 229 Yonge St Suite 400 Toronto, Ontario M5B 1N9 Canada