Call us toll-free now
Book with an expert for free:
1 778 807 9750
Too much? We'll call you. Drop your number in the box:
24 hours a day, 7 days a week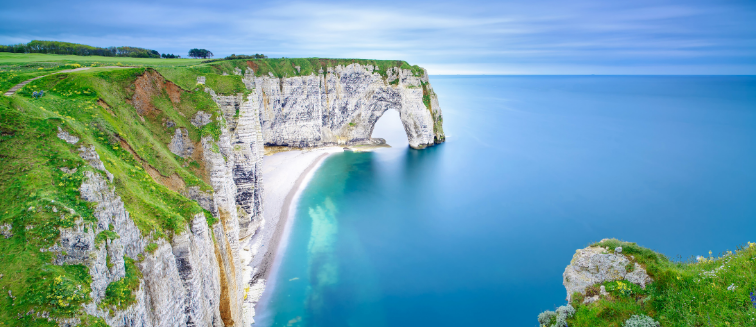 What to see in France
Normandy
Tourist attractions Normandy
Normandy is one of France's most beloved travel destinations, situated in the northern reaches of the country, on the shores of the English Channel. Originally two separate regions, Upper and Lower Normandy were unified into one region in 2016. Famous for its political and cultural power during medieval times, Normandy was the birthplace of the Norman Dynasty, which controlled much of continental Europe and England between the 10th and 12th centuries. The famous Duchy of Normandy grew out of a treaty signed between a Viking leader and the Frankish King Charles III, and perhaps the most famous Norman of all was William the Conqueror, who shaped the region and whose legacy is still evident today. This rich Norman heritage brings a wide array of historical attractions to explore if you travel to Normandy. 
In more recent times, Normandy's coastline was the stage of the legendary D-Day landings, and there are many monuments and museums that commemorate and illustrate the events of 1944. Many of Normandy's cities and towns suffered extensive damage during the Second World War and the legacy of this tragic period is still an important part of Normandy's culture today. Anyone with a keen interest in the history of World War II is sure to find a trip to Normandy an eye-opening experience. 
Visiting Normandy is a treat for anyone who loves French culture and cuisine. Several distinct towns and cities can be found in the region, the most notable of which is the regional capital, Rouen, known for its charming half-timbered houses, and Caen, a slightly more modern city, home to a wealth of World War II history. Other cities to include on a tour of Normandy are Bayeux, an ancient city home to the famous tapestry of the same name, Dieppe, a pretty seaside town, and La Havre, the fascinating port city, with a wealth of unique architecture and numerous museums and galleries. 
As well as being a cultural haven, Normandy boasts a superb natural setting, so there are plenty of opportunities to explore the great outdoors if you visit Normandy. From the rugged Normandy coastline, which stretches for 640 kilometres and includes untouched beaches and dramatic chalk cliffs, to the rolling pastures of the French countryside, known for its dairy farming and apple orchards. Well-connected to the rest of France, you can easily travel to Normandy from Paris if you are visiting the capital. 
What to see in Normandy
Covering an area of  30,627 square kilometres, Normandy is a large region, so there are countless things to see and do in Normandy, depending on your interests. Once you have finished exploring the many cities and towns in the region, there are plenty of sights to add to your travel itinerary. 
The D-Day Beaches top the list of things to see in Normandy. The site of the World War II D-Day Landings, the beaches of Omaha, Juno and Utah are the main starting points for contemplating the bravery and devastation that took place here on the 6th June 1944. Along the coast, you'll also find several monuments, museums and cemeteries dedicated to the fallen soldiers of that fateful day and tours leave regularly from the town of Bayeux. Traveling to Normandy's beaches is an unforgettable highlight of a trip to this part of the country.
The coast of Normandy is also home to another world-famous sight: the medieval monastery and abbey of Mont Saint Michel, built upon a rocky island and connected to the mainland by a tidal causeway. A UNESCO World Heritage Site, the fairytale spires and cobblestoned streets of Mont Saint Michel are a must-see if you travel to Normandy.
Normandy has a rich cultural heritage and is famously the birthplace of the Impressionist art movement. If you take a trip to Normandy today, the best place to uncover this artistic heritage is in the charming village of Giverny. Nestled amongst the gorgeous greenery of the Normandy countryside, Giverny is home to the house of Claude Monet, perhaps one of the most prestigious impressionists in the world. It's easy to see how the landscapes of this region could have inspired painters such as Monet, Boudin and Mattise and after you've finished exploring Monet's former home and elaborate gardens there is a Museum of Impressionism where you can soak up even more knowledge about this important era of art history. 
Lovers of architecture, as well as art, will relish a vacation to Normandy, as the regions diverse history has left a unique and varied legacy on the buildings and structures of Normandy. From the Romanesque abbeys of Caen, constructed by William the Conqueror, to the ruined Chateau de Gallion and the elegant Alencon Castle, in the city of the same name, a trip to Normandy is incomplete without visiting at least some of the regions stately chateaux and striking ecclesiastical buildings. In contrast to these historic treasures, the city of La Havre should be at the top of your list of things to see in Normandy if you're interested in architecture as it was famously redesigned by Auguste Perrett following the Second World War. Perret was an architect known for his love of unusual concrete design, evident in La Havre's unique skyline t. This strikingly modern port city is a UNESCO World Heritage Site and embraces its artsy heritage with a number of museums dedicated to the modern arts. To see a completely different side to Normandy, a trip to La Havre is highly recommended!
Finally, away from the cities and towns, the natural beauty of Normandy is illustrated most profoundly by the breathtaking Alabaster Coast, a series of dazzling white-chalk cliffs that run from Le Havre to Le Tréport. Contrasting with the marine blue sea of the English Channel, this picturesque stretch of coastline is home to the famous natural chalk arches of Etretat, the perfect setting for an unforgettable photo opportunity and one of the most beautiful things to see in Normandy. 
OUR BEST TRIPS TO NORMANDY
Copyright 2013-2023 Exoticca. All Rights Reserved.
Exoticca Travel Canada Inc 229 Yonge St Suite 400 Toronto, Ontario M5B 1N9 Canada