Call us toll-free now
Book with an expert for free:
1 778 807 9750
Too much? We'll call you. Drop your number in the box:
24 hours a day, 7 days a week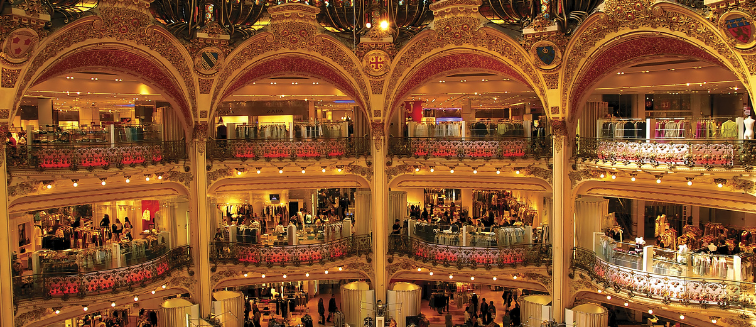 Shopping in France
If you are looking for souvenirs from France you should read this.
Everyone knows that Paris is a shopping paradise, but you'll find interesting and beautiful souvenirs wherever you travel in France! Whilst trend-setting travellers won't be able to resist the designer fashions on sale here, foodies will be spoilt for choice when it comes to French delicacies to take back home! Shopping in France is a real pleasure, so be sure to make time for a little retail therapy during your trip. Here are some of the best souvenirs from France to leave room for in your suitcase:
Natural soaps
A lovely gift to take home with you from France is a bar of natural soap. The French produce a variety of fragrant, handmade soaps, most notably those made in Marseille. 'Savon de Marseille' is one of the most prestigious soap manufacturers in the country. Available in a variety of natural scents, such as rose and lavender, these soaps make for an indulgent reminder of any trip to France.
Macarons
An edible gift, almost too pretty to eat, macarons are one of the sought-after French sweets. Delicate cookies containing a creamy ganache filling, macarons are available in a variety of colourful flavours. The most famous producer of these delicious treats is Laduree, founded in Paris in 1862.
French wine
No trip to France is complete without sampling the incredible selection of French wines. From Merlots and Cabernet Sauvignons to Champagne, what better way to enjoy the sophistication of French cuisine back home than to pack a couple of bottles in your suitcase! French wines are great no matter your budget, so whether you head to a specialist wine shop or simply pick up a few bottles from a French supermarket, this is one of the best things to buy in France. 
Perfume
The home of perfume, the French are passionate about their scents. Genuine French perfumes make a thoughtful gift for a loved one or a beautiful treat for yourself! Of course, the most famous scent of all is Chanel No.5, and buying a bottle of this legendary perfume in its birthplace is surely an experience any beauty-lover will relish!
Gourmet salt
If you're looking to recreate fine French cuisine back home, why not buy some of the gourmet salt available in France? Sea salt from Brittany is among the most sought-after and a mainstay of any French kitchen. So, take the taste of authentic sea salt home, one of the best inexpensive French souvenirs for your foodie friends!
Fashion
Of course, one of the best things to buy in France is fashion! From authentic French berets to high-end designer clothing, Paris is at the centre of the world in terms of fashion and the latest trends! Paris is bursting with haute couture boutiques and the flagship stores of some of the world's most prestigious designers. If you visit the 'City of Light' be sure to explore the Galeries Lafayette department store, one of the most famous in the country and the perfect place for a shopping spree! 
Copyright 2013-2023 Exoticca. All Rights Reserved.
Exoticca Travel Canada Inc 229 Yonge St Suite 400 Toronto, Ontario M5B 1N9 Canada