Call us toll-free now
Book with an expert for free:
1 778 807 9750
Too much? We'll call you. Drop your number in the box:
24 hours a day, 7 days a week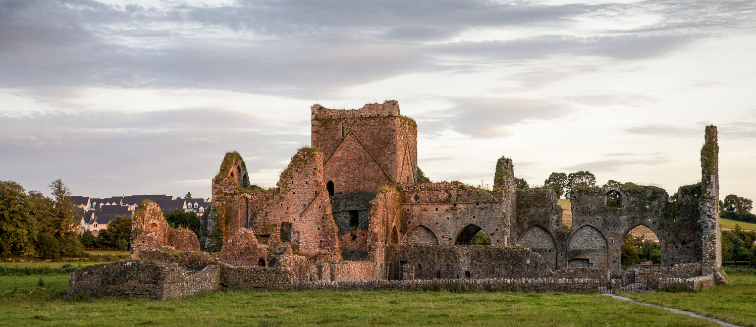 What to see in Ireland
Rock of Cashel
Tourist attractions Rock of Cashel
The imposing Rock of Cashel, also known as the 'Cashel of the Kings' or 'St. Patrick's Rock', is a historic site located at Cashel in County Tipperary. A partly ruined castle, visiting the Rock of Cashel is one of Ireland's top tourist attractions due to its fascinating history, imposing appearance and stunning location, perched on a limestone outcrop surrounded by the rolling pastures of the Golden Vale.
The partially ruined structures are composed of several different buildings including the 12th-century Round Tower, the 13th-century Cormac's Chapel as well as an astounding 15th-century castle and intricate Celtic Crosses. The Rock of Cashel is an ancient site, once owned by the Kings of Munster. During this period it would have served as a defensive fortress and parts of the structure date back as far back as the 4th-century.  
The Rock of Cashel attracts a large number of visitors as it played a significant role in some of Ireland's most treasured historic moments. It is also believed that two of the most famous icons of Irish legend are thought to have visited the site over the centuries. Firstly, St. Patrick, the patron saint of Ireland is said to have baptized King Aengus at the Rock of Cashel in the 5th-century. King Aengus went on to become Ireland's first Christian ruler. Secondly, Brian Boru, who was the only king able to unite all of Ireland under one ruler, was crowned at the Rock in the year 990. Therefore a trip to the Rock of Cashel is also a journey through Irish history!
After soaking in the wonderful mix of Gothic, Romanesque and Medieval architecture, visitors to the site can take informative guided tours, walk freely around the ruins and enjoy the views across the countryside and nearby town of Cashel. Visiting the Rock of Cashel is sure to be a highlight of any tour of Ireland.
OUR BEST TRIPS TO ROCK OF CASHEL
Copyright 2013-2023 Exoticca. All Rights Reserved.
Exoticca Travel Canada Inc 229 Yonge St Suite 400 Toronto, Ontario M5B 1N9 Canada