Call us toll-free now
Book with an expert for free:
1 778 807 9750
Too much? We'll call you. Drop your number in the box:
24 hours a day, 7 days a week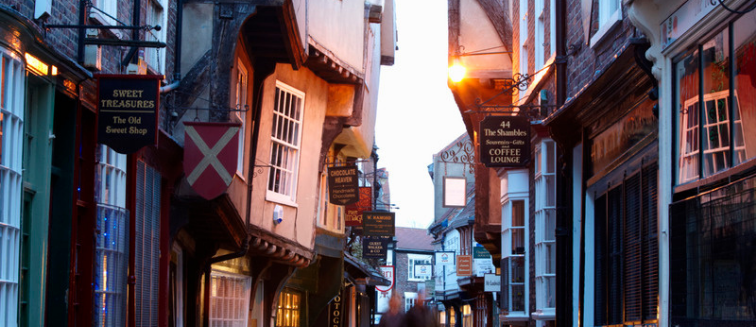 What to see in England
York
Tourist attractions York
Founded in ancient times by the Romans, York is a walled city in the northeast of England. Located halfway between the capitals of London and Edinburgh, York is known for its legendary York Minster Cathedral and fascinating Plantagenet history. Travel to York to unearth its rich Roman heritage and stroll through its Tudor-era streets. 
York is often overlooked in favour of England's larger cities, but a tour of York is a brilliant way to understand the history of the British Isles as a whole. Founded by Romans in 71 AD, York soon became the capital of the province of Britannia Inferior. Later, Vikings arrived and took over the capital, renaming it Jorvik and transforming it into one of the most important Viking strongholds in England. The Middle Ages saw the rise of York's famous wool trade and strengthened its influence as an ecclesiastical center of the Church of England, which endures to this day. If you visit York you can also discover its sweet-toothed heritage, which began in the 19th-century when it became a major chocolate manufacturing centre. 
Home to world-class museums and a thriving cultural scene, a trip to York is sure to delight you with its eclectic architecture and friendly Yorkshire locals. Stroll along the lamp-lit medieval street, known as 'The Shambles' and you'd be forgiven for thinking you've stepped back in time!
Things to see in York
The center of Christianity in the north of England since the 7th-century, York Minster is one of the best things to see in York. York Minster is a huge cathedral at the heart of the city and one of the largest of its kind in northern Europe. Today, York Minister remains a thriving place of worship. Completed in 1472 this great cathedral is known for its staggering stained glass windows and intricate interior decoration. A must-visit in York.
To understand the Viking heritage of York, be sure to visit the Jorvik Viking Center. Here you can discover 9th-century York through a series of fun, interactive multimedia exhibitions, making it one of the best things to do in York for visitors of all ages. Perfectly bringing to life the historic capital of Jorvik, you can also view a range of artefacts and explore a reconstruction of a Viking settlement. 
A vacation to York is incomplete without strolling down 'The Shambles', the most atmospheric street in the city. Flanked by overhanging timber-framed buildings in a traditional Tudor style, this cobblestone street is like something from an old-English fairytale. The street is home to a range of restaurants, shops and a bakery and at the bottom of the street, the Shambles Market operates daily. 
York has a rich industrial heritage, and the National Railway Museum is a free exhibition that tells the fascinating story of the rise of rail travel in Britain. Any budding trainspotter will delight in the collection of historic trains on offer here, including a number of antique steam locomotives and a bullet train from Japan. 
Finally, one of the best things to do in York is to stroll upon its historic City Walls, also known as the 'Bar Walls' or 'Roman Walls'. Four metres high, the original walls were built in Roman times and today these walls are the longest intact city walls in England. If you travel to York you can enjoy fantastic views of the city and York Minster as you stroll along the different sections of these historic walls. 
Copyright 2013-2023 Exoticca. All Rights Reserved.
Exoticca Travel Canada Inc 229 Yonge St Suite 400 Toronto, Ontario M5B 1N9 Canada