Call us for free now
Book with an expert for free:
+44 20 8068 3176
Prefer us to call you? Drop your number in the box:
24 hours a day, 7 days a week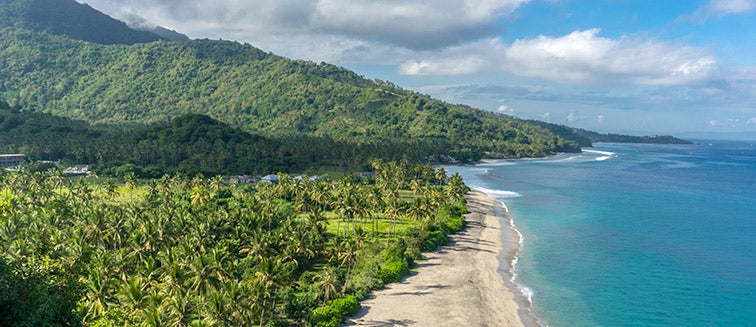 What to see in Indonesia
Senggigi
Tourist attractions Senggigi
Lombok's most famous destination, Senggigi delivers on all the most-coveted characteristics of a tropical paradise. White-sand beaches, backed by verdant rainforests and coconut palms, alongside resort-style accommodations and beach bars make this an eternally popular Indonesian holiday destination. Senggigi is located in the west of Lombok island and stretches for around 6 miles along the coast. Although Senggigi has been overtaken in terms of popularity by some of the larger resorts on Lombok and the surrounding Gili islands, it is still a great choice for a family-friendly getaway, with safe swimming beaches and plenty of surrounding cultural sights. 
Long stretches of undeveloped coastline are interspersed by pockets of more built-up, tourist developments, so you can enjoy the best of both worlds if you travel to Senggigi. Restaurants and amenities are concentrated in Senggigi town, a great jumping-off point for adventures into the island's rainforested, volcanic interior. If you are planning a holiday to Lombok, Senggigi is the perfect place to base yourself as it is easily accessible by road, giving you plenty of options for exploring the wider island and Gili archipelago. 
Things to see in Senggigi
If you're searching for the best beaches in Senggigi, Kerandangan Beach is sure to tick all boxes with its idyllic stretch of golden sand and quiet atmosphere. Situated in the northern area of Senggigi, Kerandangan Beach is less busy than the better-known Senggigi Beach and is a well-kept secret among the locals, who come here to relax on the weekends. As well as soaking up the sunshine, Kerandangan Beach is famous for its spectacular sunsets and views of the unforgettable silhouette of Bali island in the distance. 
One of the best places to visit in Senggigi to appreciate the local traditions is Pura Batu Bolong, an important Hindu temple. The temple is situated on a rocky outcrop overlooking the sea and consists of various pagodas and 14 altars. The altars are usually covered with offerings, left by locals in honour of the gods. Visit at sunset for unspoilt views of the luminous sun setting over Mount Agung on Bali.
If you ever tire of the beach, a visit to Taman Wisata Alam Kerandangan is the chance to experience the rich biodiversity and dramatic landscapes of Lombok. This natural reserve is within easy reach of Senggigi town and is home to miles of nature trails that lead you through pristine rainforests and past topical waterfalls. A few hours spent strolling through this reserve might also gift you with sightings of native monkey species and rare butterflies!
OUR BEST TRIPS TO SENGGIGI