Call us for free now
Book with an expert for free:
+44 20 8068 3176
Prefer us to call you? Drop your number in the box:
24 hours a day, 7 days a week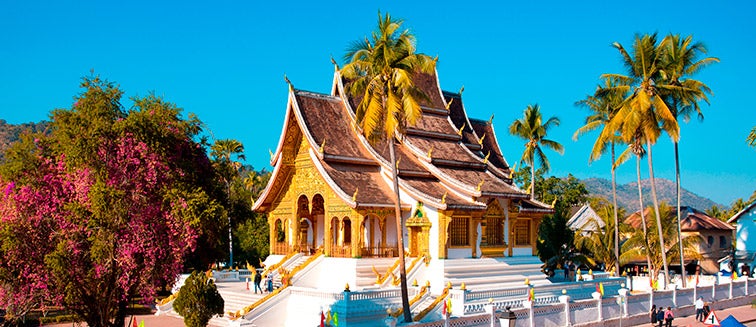 What to see in Laos
Luang Prabang
Tourist attractions Luang Prabang
Located in the north of the country at the confluence of the Mekong and Nam Kham rivers, it was the capital of Laos until the beginning of the 14th century. It is known as the city of gold and has been declared a World Heritage Site by UNESCO.
The city has more than 50 Buddhist temples, including Wat Long Khoun, which is on the other side of the river; the Wat Xieng Thong located between two rivers and the most important; the Wat Aham that houses the Buddha figures that survived the looting of the city; and the Wat Chom Si located at the top of Phi Si Hill, from where you get the best views of the city.
The Royal Palace, has been preserved since 1974, the year in which the monarchy ended, and still retains its French colonial style. Inside you can see beautiful mosaics and great decorations with gold leaf plus a theater, a temple and the National Museum. As the sunsets on the main street Sisivangvong, the Night Market comes alive with dozens of craft and food stalls that cook dishes to order.
The parade of monks is one of the biggest attractions in the city. This ceremony begins at 5 o'clock in the morning with the dawn and represents a connection between the monks, barefoot, in line and ordered by age and the devotees, who, on their knees, provide them with offerings or alms in the form of food that they will distribute into two meals during the day.
In the dry season, when the flow of the river falls, the citizens build peculiar bamboo bridges over the Nam Khan River that are washed away by the flood when the rains arrive. The Mekong represents the axis in the city and unites the small fishing villages. Located in the middle of the river, the Pak Ou Caves, also called Thousand Buddha Caves, are the most famous around Luang Prabang.
OUR BEST TRIPS TO LUANG PRABANG