Call us for free now
Book with an expert for free:
+44 20 8068 3176
Prefer us to call you? Drop your number in the box:
24 hours a day, 7 days a week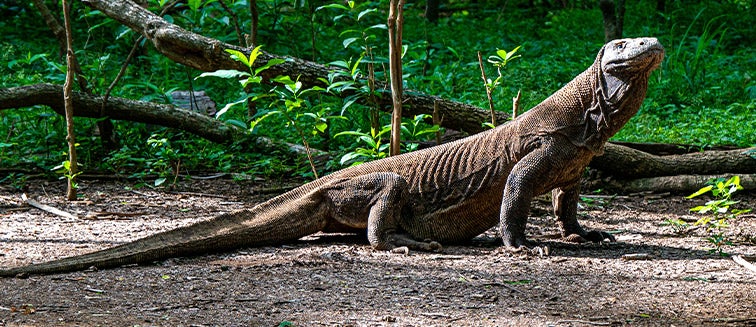 What to see in Indonesia
Komodo Island
Tourist attractions Komodo Island
Home of the largest lizards on planet earth, Komodo Island is an Indonesian island, nestled in the heart of the Flores Sea. Part of the Lesser Sunda island chain, Komodo Island is a natural paradise of exotic wildlife, volcanic hills, verdant forests and rich marine biodiversity. Anyone with a love of wildlife will relish the chance to visit Komodo Island. Furthermore, the waters around the island are home to one of the most captivating underwater worlds on earth, the habitat of a variety of fish species and marine life. Little wonder Komodo Island is considered one of the world's top dive sites!
Most travellers who visit Komodo Island choose to stay on the nearby, larger island of Flores, in the city of Labuan Bajo, and make day trips to uncover the natural wonders of the Komodo National Park and Marine Reserve. On the other hand, there is a modest village on Komodo Island itself, aptly named Komodo Village. Here you can find accommodation and basic amenities. 
The easiest way to travel to Komodo Island and the nearby island of Flores is to take a flight from Bali to Labuan Bajo. From here, a number of boat tours to Komodo Island allow visitors to explore the highlights of this legendary 'isle of dragons' and introduce them to the untouched paradise landscapes of this beautiful, unique eco-system.
Things to see on Komodo Island
The largest existing lizard species on earth, growing to a maximum length of 3-metres, the legendary Komodo Dragon is the best thing to see on Komodo Island. In fact, people travel from across the globe to see this species of monitor lizard with their own eyes. The Komodo National Park encompasses the islands of Komodo, Padar and Rinca, as well as 26 smaller islands and it's the only place on earth to see these unique creatures in the wild. A UNESCO World Heritage Site, more than 5000 Komodo dragons inhabit these volcanic islands, spending their days basking in the sunshine, wrestling with each other for dominance and foraging for food. The pristine natural landscapes and rugged coastlines of the Komodo National Park are a spectacle in themselves, and after the dragons, the second most impressive natural attraction here is its rich marine life and coral reefs.
If you're looking for an amazing backdrop for your holiday photos, look no further than Komodo Island's very of Pink Beach, one of only seven pink sand beaches in the world. You cannot miss this natural wonder if you travel to Komodo Island. A powder pink stretch of sand, lapped by the warm turquoise waters of the Flores Sea, at first glance you might think you've landed on another planet! This striking colour is the result of microscopic animals that produce a red pigment on the surrounding coral reef. When combined with the white sand on the shoreline, the result is an otherworldly pink colour. This is also one of the best places on Komodo Island to go snorkelling and diving.
Finally, if you visit Komodo Island, be sure to explore Pulau Kalong, a tiny mangrove islet just east of Komodo, nicknamed 'Fruit Bat Island'. Every evening, as dusk falls, thousands of large flying foxes, a unique species of megabat, create a captivating sight as they rise from the mangroves and fly in huge groups across the island in search of food. Undoubtedly, one of the best things to see on Komodo Island!