Call us for free now
Book with an expert for free:
+44 20 8068 3176
Prefer us to call you? Drop your number in the box:
Mon. to Fri.: available 24-hours Sat. and Sun.: 8am - Midnight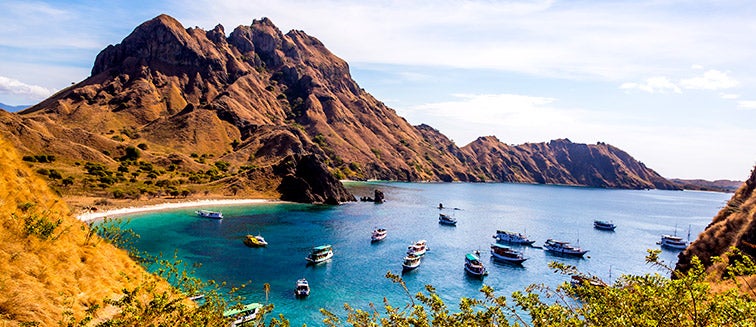 What to see in Indonesia
Flores Island
Tourist attractions Flores Island
Part of Indonesia's Lesser Sunda Islands, Flores is a large island, east of better-known Bali, with coastlines on the Flores and Savu Seas. Tipped to be the 'next big thing' for Indonesia travel, a trip to Flores is the chance to experience tropical landscapes of emerald rice paddies and rainforests and some of the best diving spots on earth. Unlike neighbouring islands, Flores is known for its Catholic heritage, a result of 16th-century Portuguese colonisation, but also for its well-preserved ancient traditions and cultures. These merge to create a unique atmosphere, making it a fascinating place to visit! Flores is home to an array of traditional villages, seemingly unchanged by the passing of time. It's an unmissable destination if you want to understand the cultures of this remote archipelago.
The largest towns are Maumere and Ende, in the east of Flores, but tourists tend to head straight to Labuan Bajo, on the west coast, a popular jumping-off point for adventures into the Komodo National Park or diving excursions. The best way to travel to Flores is by taking a 1-hour flight from Bali direct to Labuan Bajo. From there, a series of coastal highways with awe-inspiring views connect you to the lesser-known parts of the island.
Flores offers unbeatable landscapes, from turquoise crater lakes to smouldering volcanoes, hidden beaches and bubbling hot springs. The east of the island is rarely frequented by tourists, but it's here you'll find the most exotic mountain landscapes and remote villages, known for their ancient cultures and mysterious rituals. 
Things to see on Flores Island
Flores doesn't skimp on all the usual island delights. Of course, the paradise beaches are plentiful and surrounded by abundant coral reefs. Diving and snorkelling are some of the most popular things to do on Flores. On the other hand, the rich traditional cultures and unique landscapes tempt visitors to venture off the beaten path.
Kelimutu National Park is one of the best things to see on Flores. Home to multi-coloured crater lakes, rugged mountains and soul-stirring views, Kelimutu is easily reached from the city of Ende in western Flores. The highlight of this mountainous national park is the Gunung Kelimutu volcano, with its three colour-shifting crater lakes, the result of unique mineral compositions. This amazing sight is best viewed from the aptly named 'Inspiration Point', reached by a steep staircase. Sunrise treks are the most popular way to experience this natural wonder. 
If you travel to Flores hoping to uncover the unique ancient cultures of the island, be sure to visit Wae Rebo Village, inhabited by the Maggarai people. This traditional village is home to the characteristic thatched-roof huts and is surrounded by dense, forested hills. The village is a little out of the way and requires a 2-3 hour hike through the forest in order to reach it. On arriving at the mountain plateau, 1,200 metres above sea level,  the village unfolds before your eyes. Visitors have the chance to learn about the local traditions, meet the villagers and even stay the night in a traditional hut.
Another unmissable village to visit on a tour of Flores is Bena Village, considered the most traditional Ngada village on the island. Bena is known for its fascinating stone monuments and frequent tribal ceremonies. Its thatched-roof huts are arranged in a semi-circle shape, interspersed with ancient tombs and curious ancestral totems. The most visited Ngada village, here you can learn about local customs and see the village artisans weaving colourful textiles. Located at the foot of Mount Inerie, the village is home to nine tribes and around 45 houses. 
Finally, a trip to Flores Island would be incomplete without contemplating the impressive Spider Web Rice Fields of Ruteng. These legendary rice fields are one of the islands most popular tourist sights and stand out thanks to the unique shape of their terraces. Huge circular fields, divided into sections like a pie-chart, these spider-web shaps are the result of communal agricultural traditions, where the circular crops are divided equally between different members of the community. A field of green spider webs, these photogenic rice fields are a must-see if you travel to Flores.