Call us for free now
Book with an expert for free:
+44 20 8068 3176
Prefer us to call you? Drop your number in the box:
24 hours a day, 7 days a week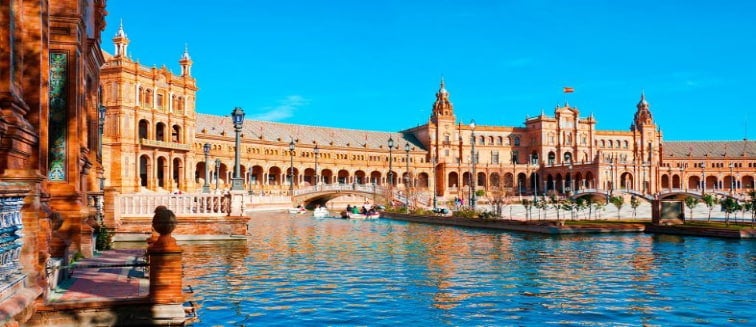 What to see in Spain
Seville
Tourist attractions Seville
Capital of the southern region of Andalusia, the city of Seville is known for its hot summers, UNESCO protected Old Town, Moorish heritage and flamenco dancing. The fourth largest city in Spain, Seville is unapologetically romantic and holds on to its traditions and heritage as a source of immense pride.
With majestic architecture and bursting with culture, Seville fits the image that many travellers have in mind when they envisage a quintessentially 'Spanish' city. Sat across the River Guadalquivir, Seville is one of Europe's most bicycle-friendly cities, with plenty of cycling lanes to facilitate easy discovery of the numerous landmarks. From the Old Town, it is recommended to cross the river into the neighbourhood of Triana for a truly authentic taste of everyday 'Sevillano' life during your holiday to Seville. 
What to see in Seville 
History is alive in Seville, where the civilisations and cultures of years gone by can be experienced in the monuments and buildings of the city. Major landmarks include the Royal Alcazar Palace, originally a Moorish fortress where you can expect to immerse yourself in Islamic style architecture, intricate tiling and tranquil courtyards.
Here you can let your imagination run away with you as you imagine Spain in the days of the Umayyad Caliphate. Nearby is the UNESCO World Heritage site, Seville Cathedral. The third largest church building in the world, Seville Cathedral showcases fabulous Gothic architecture and is just as spectacular inside as it is outside. The adjoining Giralda Bell Tower is another interesting sight as it was once the minaret of the mosque which stood on the site until the 15th-century.
It bears a resemblance to the Koutoubia Mosque minaret in Marrakech. Furthermore, you cannot miss the majestic Plaza de España, at the heart of Seville. This iconic landmark square is home to a moat-like water feature, a fountain, ceramic tiles and a pavilion. 
OUR BEST TRIPS TO SEVILLE