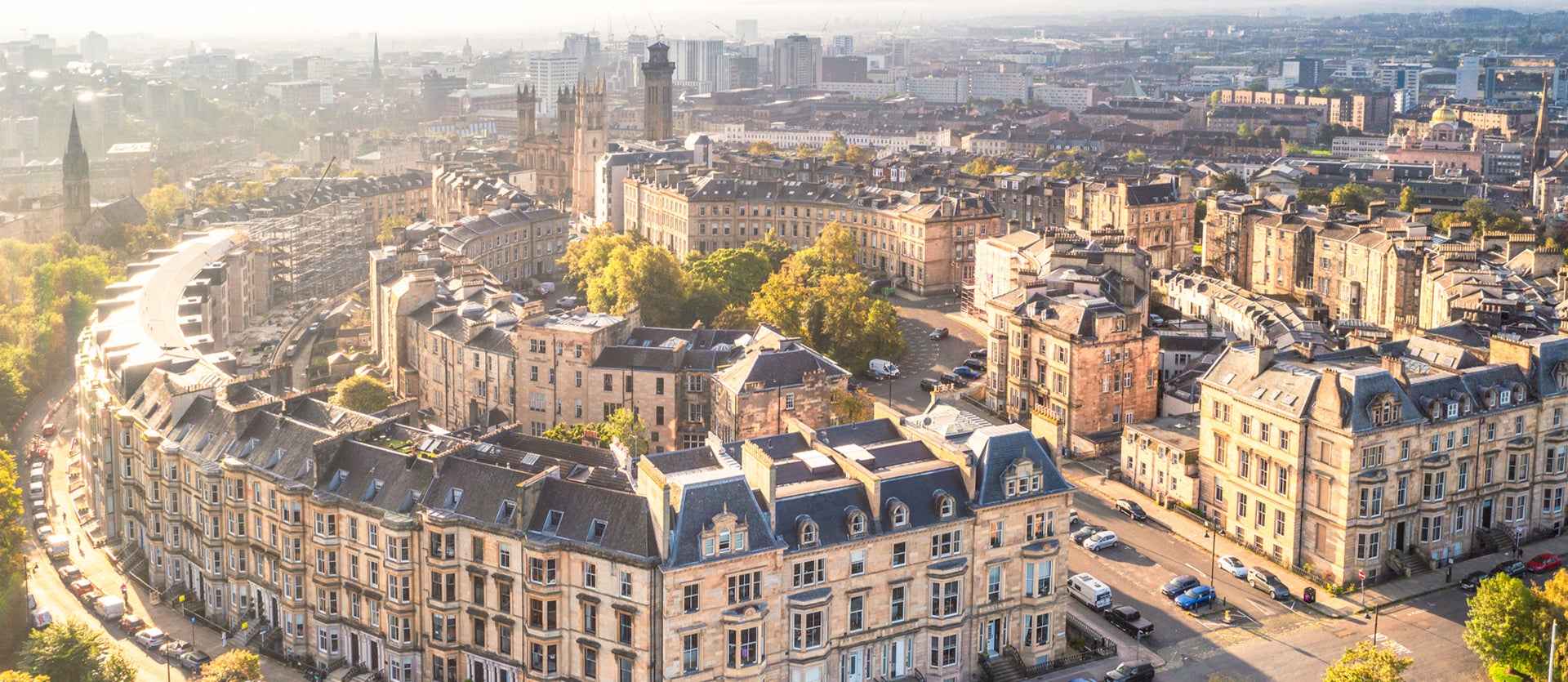 What to see in Scotland
Glasgow
Tourist attractions Glasgow
Scotland's largest city, Glasgow is a thriving metropolis with a creative edge. Perhaps the most exciting city in Scotland, Glasgow is filled with grand architecture, trendy shops and stylish eateries. Visiting Glasgow is an obligatory part of a tour of Scotland and this former industrial powerhouse is well-known today as a city of culture since it was named the UK's top cultural and creative city.
Glasgow has some of the country's best cultural attractions, from fantastic museums, many of which are free to visit, to vibrant street art and exciting music venues. In fact, Glasgow is the first city in the UK to become a designated UNESCO City of Music. Many artists and bands have come out of Glasgow's thriving music scene such as Travis, Franz Ferdinand and Primal Scream, to name a few. So if you're looking for nightlife, a trip to Glasgow will be sure to satisfy your cravings, whether you're enjoying the live music at venues such as the quirky Old Fruitmarket or King Tuts Wah Wah Hut, where the band Oasis were first signed, or enjoying a pint in one of the city's friendly pubs. 
As well as arts, architecture and music, Glasgow is a fantastic shopping destination. After London, Glasgow is the best place to go shopping in the UK. You'll find shopping centres, high-street stores, historic shopping arcades and markets, so you can shop 'till you drop if you travel to Glasgow! Nevertheless, leave some energy for sightseeing, as Glasgow's fascinating heritage as a major centre of Scottish trade and industry has left plenty of historical sights to explore and an architectural style ranging from Medieval to Art Nouveau and classical Victorian. 
Glasgow is situated on the River Clyde, in Scotland's west central lowlands. The city is a great base for exploring the natural beauty of the Trossachs and Loch Lomond National Park, as well as the attractions of the Firth of Clyde and the Isle of Arran. It's also well-connected to the capital, Edinburgh, just over one hour's drive away. The best time to visit Glasgow is during the spring and summer when you can enjoy long days and warmer temperatures, perfect for experiencing the plentiful outdoor events and sights. 
Things to see in Glasgow
There are a huge variety of things to see and do in Glasgow, no matter the time of year. From dawn till dusk, this vibrant city offers plenty of things to do, whether you're an avid sightseer or prefer to enjoy the culinary delights of Glasgow's restaurant scene or want to get your creative juices flowing at one of the city's museums and galleries. 
Glasgow Cathedral is the oldest building in the city and a must-see on a tour of Glasgow. Also known as St. Mungo's Cathedral, this ancient place of worship dates back to before the Scottish Reformation. Still in use today, the historic cathedral is known for its choir and its ornate medieval architecture. It is thought to have been constructed on the site of St. Mungo's tomb, the patron saint of the city of Glasgow. If you visit Glasgow Cathedral you can admire the fine stained glass windows, intricate stone carvings and trace the history of the cathedral and its significance to the city throughout the ages.
One of the top things to see in Glasgow is the Kelvingrove Art Gallery and Museum, housed within a striking red sandstone building in the heart of Kelvingrove Park. This free museum is home to a world-class collection of art and artefacts and is consistently rated the best thing to see in Glasgow. Home to 22 galleries, Kelvingrove is known for its collections of Renaissance art, taxidermy and ancient Egyptian artefacts. You could easily while away an entire afternoon exploring its fascinating collections.
Another important sight to see if you take a trip to Glasgow is the prestigious Glasgow City Chambers, dating back to 1888. The headquarters of Glasgow Council, the chambers offers twice-daily tours where you can explore the seat of the city's authorities, housed within an ornate building that acts as a testament to Glasgow's historic wealth as a centre of trade and industry.
Finally, one of Glasgow's modern sights is its exciting Mural Trail, a series of huge pieces of street art painted on various buildings throughout the city centre. An initiative brought in to brighten up the streets of Glasgow and support local artists, you can opt to follow the trail route or simply stumble upon the eclectic art pieces as you explore the city on your own. There are an amazing array of pieces to discover, from celebrations of famous Glaswegians such as Billy Connolly and architect Charles Rennie Macintosh to cute depictions of domestic cats and Scottish wildlife. The Glasgow Mural Trail goes to show how the city stands out as a creative and cultural hub and is a must-see if you take a holiday to Glasgow.
OUR BEST TRIPS TO GLASGOW

Do you want expert advice?
We can help you choose the best destination for your trip.