Call us for free now
Book with an expert for free:
+44 20 8068 3176
Prefer us to call you? Drop your number in the box:
24 hours a day, 7 days a week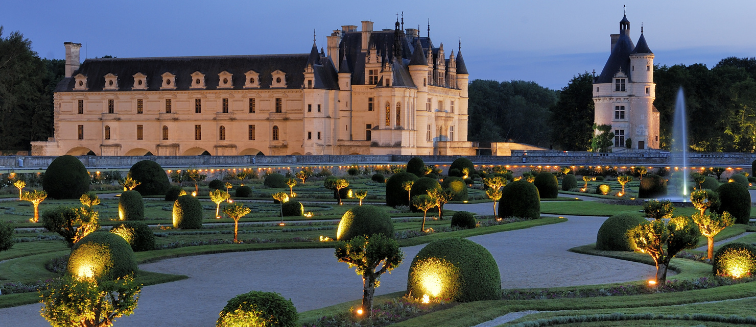 What to see in France
Tours
Tourist attractions Tours
Nestled in the heart of the Loire Valley is Tours, well-known as a jumping-off point for exploring the historic chateaux of the Loire Valley. Despite this, Tours stands out as a charming destination in its own right. A bustling university town, Tours has a long history and it's eclectic architecture attests to this, attracting visitors with its Gothic cathedral, half-timbered houses and old-world charm. The historic centre is, in fact, a UNESCO World Heritage Site and if you visit Tours and explore the cobblestone streets it is easy to fall for its romantic, fairy-tale atmosphere. 
Small enough to explore on foot Tours also has a well-connected tram system, allowing visitors to easily travel between some of its best-loved sights. Foodies will surely love the fine French cuisine of this region too, and Tours has exceptional restaurants to enjoy French flavours both traditional and modern. If you travel to Tours in the summer, you'll be delighted to find a number of open-air bars and restaurants along the banks of the River Loire, the perfect place for dining al fresco and soaking up the ambience of this stylish city. 
Tours stands with one foot in the future and one foot in the past. Whilst it works hards to proudly preserve its most ancient sites, such as the St. Gatien Cathedral and the unforgettable Place Plumereau, the more modern side of the city is just as captivating. The Centre de Création Contemporaine showcases modern art and holds numerous live events and the amazing Parc Honoré de Balzac, a man-made floating island in the Loire River, home to an animal park and beautiful green open spaces. 
If you take a trip to Tours you are likely to hear the locals refer to it as 'le mini-Paris', as the city shares much in common with the capital, but is thought to be more laid-back than the famed 'City of Light'. The heart of the city is the River Loire and it's a good starting point for any tour of Tours, as most of the city's major sights are to be found sandwiched between the Loire and lesser River Cher. 
What to see in Tours
There is much to see in Tours, thanks to its long history and cultural significance. At the top of any list of things to see in Tours should be the awe-inspiring Saint Gatien Cathedral, with its intricate facade and dazzling stained glass windows. Originally constructed in 1170, Saint Gatien's structure has been added to over the years, creating a fascinating fusion of architectural styles, overall described as flamboyant Gothic. Beautiful during the day, once night falls the structure is uplit to create an unmissable sight. 
Next to the cathedral, you'll find the magnificent Musée des Beaux-Arts de Tours, a fine-art museum housed within a palace of the former archbishop. A must-see on a trip to Tours, the gallery is home to works by masters such as Degas, Delacroix, Monet and Rubens.
Heading east from here, down cobblestone streets and past charming boutiques and cafes, you'll come to the famous Place Plumereau, a magnificent square surrounded by Tours' famous half-timbered houses. This is truly the heart of the old town and setting foot in the square is like stepping back in time. Countless cafes and bars have terraces filled with outdoor seating, the perfect place for an afternoon aperitif on a sunny day. 
Finally, a holiday to Tours would be incomplete without admiring the River Loire, after all, it is the centrepiece of the entire city. In the summer you'll find stylish open-air riverside cafes filled with groups of families and friends catching up over fine French food and wine. Whilst strolling along the Loire be sure to pay a visit to Pont Wilson, the river's most famous bridge, constructed in 1779 and, today, the oldest bridge in the city.