Call us for free now
Book with an expert for free:
+44 20 8068 3176
Prefer us to call you? Drop your number in the box:
24 hours a day, 7 days a week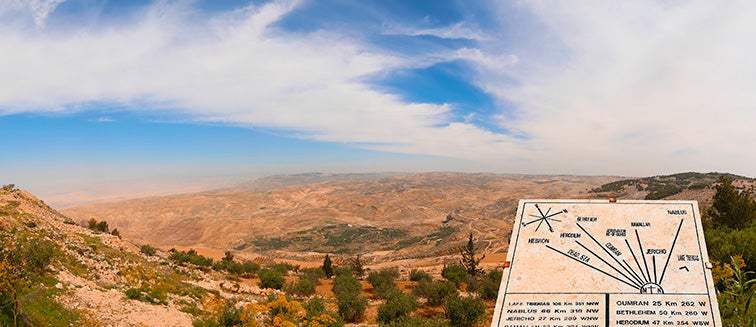 What to see in Jordan
Mount Nebo
Tourist attractions Mount Nebo
According to the Old Testament, Mount Nebo was the place where Moses had his first glimpse of the Promised Land, after 40 years of leading the Israelites through the desert. Sure enough, if you travel to Mount Nebo today, with a clear sky you can view the Promised Land yourself, as the Dead Sea, Bethlehem and distant views of Jerusalem stretch out before your eyes. 
An 802 metre-high mount in western Jordan, this was also the place where Moses spent his final days and he is thought to be buried nearby, although the exact location has never been determined. There are two peaks on sacred Mount Nebo: Siyagha and al-Mukhayyat. A church and sanctuary were built atop of Siyagha by pilgrims in the 4th-century, and later a Byzantine monastery also stood on the site. Although the monastery is long gone, mosaics from this era can still be admired at the Mount Nebo church. 
Nowadays, an active Franciscan monastery and an adjoining church stands on Siyagha, named the Moses Memorial Church. Many visit Mount Nebo as a day trip from nearby Madaba or as part of a wider tour of Jordan. Furthermore, it is still an important pilgrimage site as well as a place of tourism. Whatever your reasons for visiting, you can't deny the views are fantastic and the special atmosphere of this historic site speaks for itself.
Things to see at Mount Nebo
If you visit Mount Nebo you'll want to explore the Moses Memorial Church. A basilica at the peak of the mount, this humble church dates back to the 4th-century but has recently been renovated. Many visitors come to see the amazing mosaic housed within its walls. This 6th-century mosaic is one of the best-preserved in Jordan and depicts a hunting and herding scene. You'll also find a small museum within the church that tells the history of Mount Nebo and an adjoining monastery, although it is active and not open to the public. 
Of course, the best thing to see at Mount Nebo is the view itself! Marked by a bronze memorial and a huge serpent cross, this viewpoint marks the spot where Moses looked out over the Promised Land. A marker map points to landmarks in the distance such as Jerusalem, Golan Heights and the Dead Sea. Undoubtedly an amazing view whether you're interested in the religious significance or otherwise.
Finally, if you travel to Mount Nebo, make a stop at the nearby village of Khirbet al-Mukhayyat, the site of the ancient town of Nebo. Here you'll find the Church of SS Lot & Procopius. Dedicated to early Christian martyrs, this 6th-century church houses another incredible mosaic that depicts scenes from everyday life such as winemaking, fishing and farming. 
OUR BEST TRIPS TO MOUNT NEBO
Tourist attractions jordan