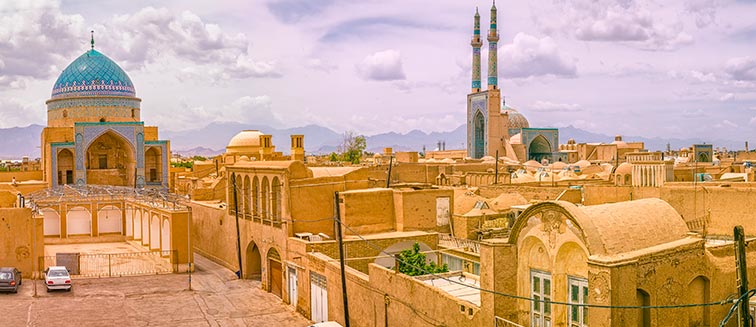 Tourist attractions Yadz
The history of the capital of the province of Yazd dates back to 3000 years, making it one of the oldest cities in the world.
It was very important for Zoroastrianism, the religion of the country for 4 centuries before the conquest of the Arabs, after which, little by little Islam was imposed. The most important place for the faithful of this religion is the Temple of Fire, whose flame burns tirelessly since the fifth century BC. C.
Visited by Marco Polo, merchants turned it into one of the most active cities on the Silk Road.
It is located between the deserts Dash-e-kavir and Dashboard-e Lut. In its old town all the walls are made of adobe and the roofs are full of ventilation chimneys or bagdirs, which capture the wind and air currents by naturally heating the rooms of the houses and the deposits of the underground channels or qanats, an ingenious irrigation system to bring water from the distant mountains to the city that can be known in detail in the Water Museum.
The Amir Chakhmaq Complex is located in the heart of the city and has a spectacular three-story facade full of symmetrical arches and houses the bazaar, a mosque and a pastry shop.
The Jameh Mosque or Friday Mosque was built in the fifteenth century and has a spectacular entrance flanked by slender minarets of 50 meters tall, covered with characteristic blue tiles. The cupola and the mihrab also have mosaics with floral motifs and fragments of calligraphy.
The beautiful Dolat Abad Garden was built in the 18th century according to the Persian design model of symmetry and houses a pavilion of traditional Iranian architectural style preceded by an elongated pond borders by cyrusses and the tallest wind tower in the country.
The Towers of Silence are on the outside of the city. They were the cemeteries of the followers of Zoroastrianism, who considered the corpses to be something impure that could not be kept underground or thrown into water or fire without fouling these three elements. Only the king's was divine and had the right to a grave. The rest was exposed in these towers, wide open circular buildings, after being washed and perfumed so that they were devoured by raptors. This custom was declared illegal in the 70s.
A good plan to end the day in this city of the earth is to visit a bakery to taste baklabas, an exquisite sweet made with pistachio, rose water, sugar, oil, cardamom and almonds.
We don't have any trips to Yadz at the moment.
Subscribe to our newsletter to not miss any trips
In compliance with the Data Protection Regulation, we inform you about your rights in our privacy policy and Cookies policy

Do you want expert advice?
We can help you choose the best destination for your trip.