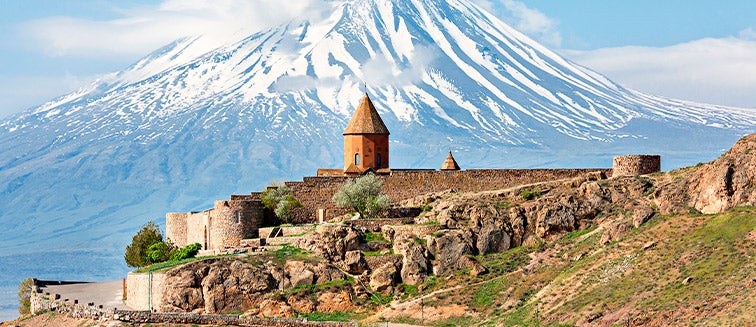 What to see in Armenia
Khor-Virap
Tourist attractions Khor-Virap
Sat in the shadow of mighty Mount Ararat, Khor Virap Monastery seems as if it is out of an olden days fairytale. A holy site of pilgrimage for followers of the Armenian Apostolic Church, the site dates back to Pagan times. It is not difficult to see why it is one of Armenia's most attractive tourist destinations as the image of the monastery perched on a rocky outcrop with the backdrop of the snow-capped mountains is unimaginably beautiful.
The story of Khor Virap Monastery is an important part of Armenian heritage. Legend has it that Saint Gregory the Illuminator was imprisoned in a hole at the site for 13 years by the then pagan King as punishment for his Christian beliefs. Eventually, after falling in love with a Christian woman and dealing with feelings of guilt, the King returned to Khor Virap to release Gregory, who in turn, converted the King to Christianity, thus marking the beginning of Armenia's long Christian history. Later, in the 7th-century, Nerses III built a chapel above the place where St. Gregory spent all those years imprisoned and, from that time on, the site has been a special place in the hearts of all believes, Armenian and otherwise.
Constructed from white limestone, the monastery and the buildings within the walled complex welcome many visitors every year, who can easily access the site by bus from Yerevan. Visitors have the opportunity to climb down a series of ladders, deep into the earth, to the very dungeon where the famous saint was imprisoned and where today a small shrine sits in his honour. The iconic floral Armenian crosses, khachkars, can be found throughout the complex.

Do you want expert advice?
We can help you choose the best destination for your trip.