Call us for free now
Book with an expert for free:
+44 20 8068 3176
Prefer us to call you? Drop your number in the box:
24 hours a day, 7 days a week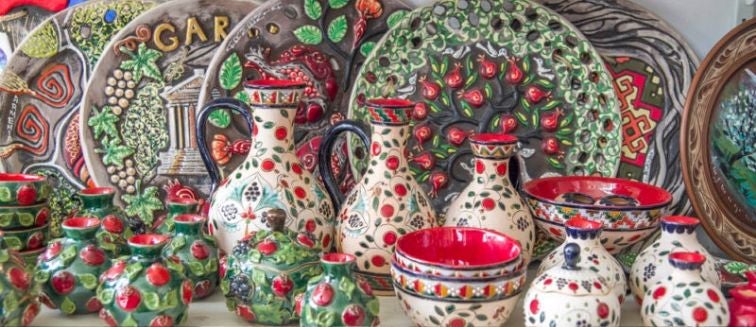 Shopping in Armenia
If you are looking for souvenirs from Armenia you should read this.
Do you want to know what to buy in Armenia before traveling to this amazing country? Armenian souvenirs are the reflection of the country's history, culture and philosophy.
There is a wide range of typical Armenian products and a wide variety of gifts to choose from for all tastes. Now, we will give you a list of the most curious and exclusive Armenian souvenirs that you can acquire as a souvenir for yourself, your family or your friends.
Armenian Cognac
Armenians are very proud of their brandy and are experts in its preparation; therefore, it is the number one item to buy in Armenia, if you like brandy, which is also of great quality. You can find bottles of all sizes, if you are just looking for a small amount of this spirit.
Jewellery
If you would prefer to buy Armenian souvenirs that can be used in daily life, the typical jewellery of the country is, without a doubt, a great option. Traditional jewellery is characterised by the country's own symbols such as the six-pointed star as well as others. Besides being beautiful to accessorise, they are a unique and individual memory and an excellent gift that everyone will like. It may be expensive, but the range is so wide that you are likely to find something that suits your budget and is also one of the most representative typical Armenian products.
Any item with pomegranate
Pomegranate is the quintessential symbol of Armenian culture and, therefore, the souvenir stalls are full of gifts with the shape, drawings or carvings of pomegranates. You can buy anything from a decoration to put in your living room, to the essential fridge magnet. You will also find necklaces with pomegranates or ceramics with the painted drawing of this fruit split in half and showing its small red seeds. The possibilities are endless.
Representations of Tiran el Grande
Tiran el Grande was an Armenian king who reigned between 95 and 55 BC who managed to turn the country into the most powerful eastern Roman nation. He extended the nation beyond its borders and won the title of the Great King among the population of Armenia. That is why the effigy of Tiran el Grande embodied especially in medallions, is a symbol of national pride that represents the power of the country. It is a perfect souvenir to buy in Armenia for history lovers.
Representations of Mount Ararat
In addition to the exquisite brandy, the Armenian people are proud of their Mount Ararat. It is a sleeping volcano that is located on the Turkish border, more than 5000 metres high. This place is of enormous importance because it has been mentioned in the Book of Genesis as the point where Noah's Ark ran aground when the flood ended. It has not really been possible to prove whether this is the mountain that is mentioned, but most Christians believe it was right here.
Carpets
Another item to buy in Armenia is one of its fantastic carpets. They are an element of great importance in the culture of the country and can be found in different shapes, colours and sizes. If you travel with the intention of getting one, you should keep in mind that they can be quite heavy and take up a lot of luggage space. But there is no doubt that it is worth returning home with one of these wonders. The best place to buy carpets is at the Vernissage Market that takes place on weekends. You can even find a smaller one. There are also shops for old carpets, small Armenian jewels that you can look for in the city of Yerevan.
Dried Fruits
Dried fruits are also typical Armenian products, especially apricots, peaches and plums. Surely, if you try them, you will want to take more home for yourself and to share. Buying dried fruits is a very good option that everyone will be happy with. Drying fruits is a very traditional activity among Armenians and almost all families dry their own fruits and store them in their pantries to take as an appetizer or to use them as an ingredient in some of their dishes. They are delicious as they are, but you can also find them dipped in chocolate, to give it an extra sweet pleasure.
Fruit Wine
Armenia is also known for the production of a typical fruit wine, in addition to the traditional grape wine. The most popular among tourists is Granada, although there is a good selection and you can taste blackberry, raspberry and cherry. This is one of the Armenian souvenirs that will be sure to surprise everyone.
A Kachkar
The Kachkar is a star carved with a central cross and other motifs such as rosettes, intertwined figures and botanical representations. It is also known as Armenian cross stone and is a beautiful example of the crystalline medieval art typical of this country. It is so important that the Kachkars are on the list of the Intangible Cultural Heritage of Unesco. It is the best souvenir for those interested in art and history.