Call us for free now
Book with an expert for free:
+44 20 8068 3176
Prefer us to call you? Drop your number in the box:
24 hours a day, 7 days a week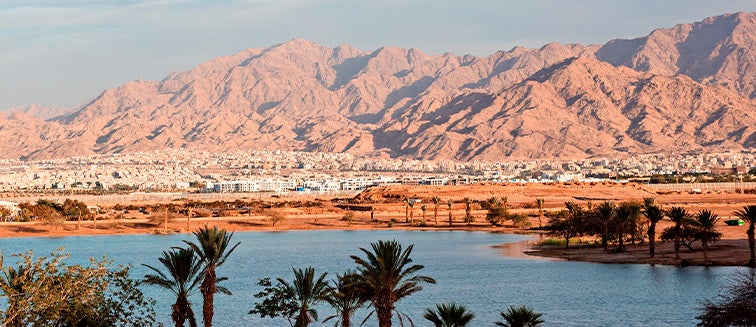 What to see in Jordan
Aqaba
Tourist attractions Aqaba
A Jordanian port city on the Red Sea, this beach-side destination is more than just golden stretches of sand and glistening warm waters. In fact, Aqaba has been inhabited since at least 4000 BC and is home to a rich array of historic sights. Its strategic location on the Red Sea has made this port city an important centre of trade throughout history. 
Situated at the southernmost tip of Jordan, a holiday to Aqaba is popular with those looking for a laid-back beach break. Surrounded by mountains and deserts, the city enjoys year-round sunshine, perfect for experiencing a wide range of outdoor activities such as snorkelling, watersports and mountain hikes. Offering an ideal combination of city and beach, this modest stretch of coastline is little known by international tourists but is famous among the scuba diving community thanks to its array of diving spots that tempt visitors to uncover the abundant waters of the Red Sea. Furthermore, Aqaba is just a stone's throw away from the Israeli border and the charming beachside town of Eliat.
The perfect choice for a relaxing break or as a base for exploring the historic sights of Jordan, Aqaba is well-connected to the country's most iconic sights such as the Wadi Rum Desert and the eternal city of Petra.
Things to see in Aqaba
If you tire of lounging on the beach, there are a number of things to see in Aqaba to find out more about the local history and culture. Aqaba Fortress is perhaps the most important sight in the city. Originally built by Crusaders in the 12th-century, visiting Aqaba Fortress offers a fascinating insight into Jordanian history. Used and reconstructed by various dynasties such as the Mamluks and Ottomans, the fortress is home to impressive ruins and imposing brick facades. Take a tour of Aqaba Fortress to trace the history of revolution and conquest in the Middle East.
Another cultural treasure to explore if you travel to Aqaba is the Archaeological Museum. Located in the old town, next to the fortress, the museum is housed within the former palace of Hashemite King, Sharif Hussein Bin Ali. The palace was built in 1917, but it has only been operating as a museum since 1990. Here you'll find all kinds of precious artefacts, including incredible Bronze Age relics.
A symbol of the city, the Sharif Hussein Bin Ali Mosque is one of the best things to see in Aqaba. This elegant marble mosque is a stunning example of traditional Islamic architecture. First constructed in 1975, it has undergone extensive renovation in recent years. With a gleaming white facade, visitors can admire its soaring minarets, huge central dome and intricate glass windows.
Finally, you cannot travel to Aqaba without exploring the rich underwater world of the Red Sea. Despite its small coastline, Aqaba is home to more than 25 dive sites, concentrated within the Aqaba Marine Park. Comprised of coral gardens, shipwrecks, deep canyons and colourful marine line, the diversity of scuba diving options in Aqaba mean that its a great destination for both first-time divers and those with more experience. 
Tourist attractions jordan