Call us for free now
Book with an expert for free:
+44 20 8068 3176
Prefer us to call you? Drop your number in the box:
24 hours a day, 7 days a week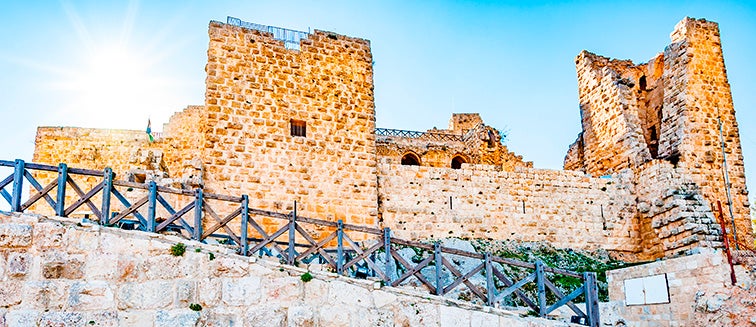 What to see in Jordan
Ajloun Castle
Tourist attractions Ajloun Castle
Standing guard over the route between Damascus and southern Jordan, Ajloun Castle is one of the world's greatest examples of Islamic military architecture. Although a tour of Jordan is sure to focus on its famous Crusader castles, this historic fort stands out thanks to its Islamic heritage and impressive hilltop locations, perched atop Mount 'Auf at 1250 metres above seal-level. Dating back to the 12th-century, it was commissioned by Saladin's nephew. Its lofty location was no coincidence since the castle overlooks the fertile Jordan Valley and surrounding desert wadis. This granted the military occupants an uncompromised view of any potential invaders entering the area, making Ajloun Castle an important part of the defence force against the Crusaders. 
In the following century, Ajloun Castle was destroyed by Mongol invaders, before later being rebuilt by the Mamluks. The castle was also heavily damaged by two devastating earthquakes in 1837 and 1927. It has remained a treasure of Jordanian heritage ever since. Despite its age and turbulent history, the castle is relatively well-preserved and has undergone extensive restoration in recent years. If you visit Ajloun Castle, inside you can admire the skilled craftsmanship of both the Ayyubids and Mamluks, displayed in the cross vault ceilings, carved stonework and sturdy limestone towers. Other highlights to see on a tour of Ajloun Castle include a number of ancient mosaics, an innovative water system, a dry moat and other intriguing defence systems. If you travel to Ajloun Castle be sure to explore the onsite museum before taking in the captivating views of the Jordan Valley from the ramparts.
Ajloun Castle is easily reached from both the capital, Amman and the historic city of Jerash. Furthermore, it is a popular tourist stop on the traditional Jordan tour circuit. If you're visiting Ajloun Castle independently, you'll need to undertake a 3-kilometre uphill walk from Ajloun town centre to reach this hilltop fortress. 
OUR BEST TRIPS TO AJLOUN CASTLE
Tourist attractions jordan