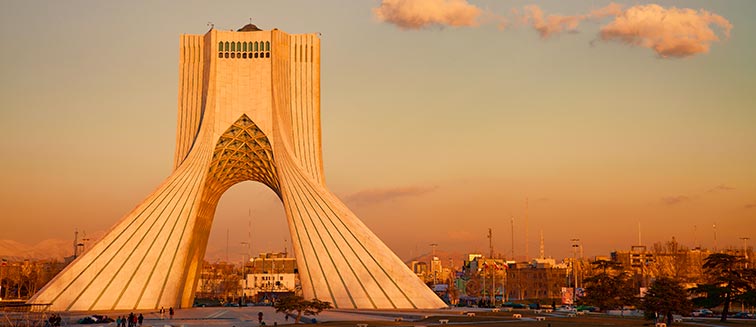 What to see in Iran
Tehran
Tourist attractions Tehran
This megalopolis of 8 million inhabitants is disproportionate, variegated, boisterous and surprising. Located in the north of Iran on a vast plain at an altitude of 1200 meters, it is surrounded by mountains. To the north rises the Alborz mountain range that extends to the Caspian Sea and whose highest peak, the Tochal, is accessed by cable car from the inhabitants of the capital to enjoy a fun day of snow.
The most representative monument of the country, the Asadi Tower, which means freedom in Farsi, was built by the Shah in 1971. It has a modern design in the shape of an inverted Y, measures 45 meters high and is covered with marble from Isfahan. On the other hand, Milad Tower is the sixth tallest communications tower in the world and from its 315 meters you can see the entire city.
The palace of Golestan, was the royal residence in the nineteenth century and is a complex of large buildings arranged around an elegant garden full of fountains and flowers and decorated with beautifully painted tiles.
In the Historical and Cultural Complex of Niyavaran, the Sha family passed its last ten years of government. In addition to the opulent palace and gardens, it houses six museums, such as the automobile museum or the Imperial Library.
The Imam Khomeini's Mausoleum is a must stop for fans of the most important leader in Iran's contemporary history.
Ferdowsi street is one of the most important and is where the Imam Khomeini Square is located. The Valiye Asr avenue, one of the longest in the world, 18 km long, represents the area of fashion, fun and modernity. The city has splendid parks such as Mellat and Laleh and numerous museums such as the National Museum of Iran, the Tapestry Museum, the Museum of Contemporary Art, the Museum of Cinema or Museum of Jewels of the crown of Iran among others.
The Grand Bazaar is a key place in the country's commerce, a market of endless alleys, each of which specializes in a particular product. It is a city within a city that includes the Imam Khomeini Mosque, a church, banks and a fire station. Tehran is the gateway to Iran but it is enough to walk its streets to understand that it is a different city that never disappoints.
We don't have any trips to Tehran at the moment.
Subscribe to our newsletter to not miss any trips
In compliance with the Data Protection Regulation, we inform you about your rights in our privacy policy and Cookies policy

Do you want expert advice?
We can help you choose the best destination for your trip.