Call us toll-free now
Book with an expert for free:
1-888-488-0592
Prefer us to call you? Drop your number in the box:
Mon. to Fri.: available 24-hours Sat. and Sun.: 3:00 a.m. - Midnight (EST) Or call your preferred Travel Advisor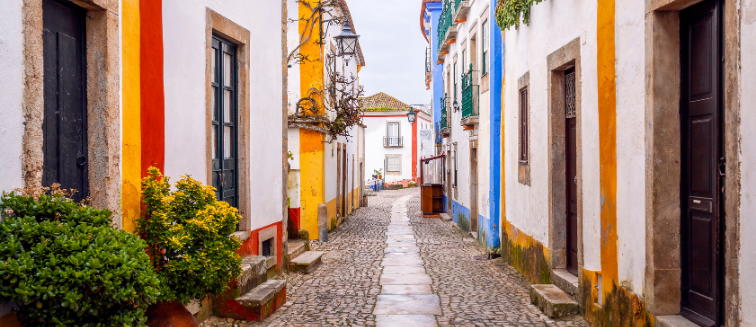 What to see in Portugal
Obidos
Tourist attractions Obidos
A wonderful example of a traditional Portuguese walled town, Obidos is situated just 80 kilometers from the capital of Lisbon. A small town, with a modest population, Obidos has become an important travel destination thanks to its charming medieval streets and well-preserved architecture. Many visit Obidos on a day trip from the capital or as part of an overall tour of Portugal as it provides visitors with an excellent example of an authentic Portuguese town, one of the most traditional in the whole of the country.
Situated on a hilltop, Obidos retains much of its medieval architecture and is filled with traditional painted houses and atmospheric cobblestone streets. Famously, the town was given to the Queen of Portugal in 1214 as a wedding gift, a tradition that endured for almost 700 years. Locals are proud of this royal heritage and work hard to keep the town as authentic as possible. 
With its rustic charms and peaceful atmosphere, vacations to Obidos have become increasingly popular over the years and offer a great alternative to the usual beach vacations or city-breaks. Obidos is also well-connected to a string of Atlantic beaches, the fishing port of Peniche and is just over an hours drive away from Lisbon. The best time to visit Obidos is during the spring when the streets are decorated with colorful flowers and trees and the crowds of summer are yet to arrive. If you do travel to Obidos during the summer, expect to share the experience with other visitors as it is a popular stop on a typical tour of Portugal.
Apart from its medieval heritage, Obidos is also known for its production of Ginjinha d'Obidos, a delicious cherry liqueur, and for its numerous bookshops, of which there are fourteen in total, a large number for such a tiny town!
What to see in Obidos
Most of the things to see in Obidos can be fitted into one day of sightseeing, and the town is easily explored on foot. The Porta da Vila is the main gateway into this walled city and is the starting point of the majority of tours of Obidos. This ornate double-gate entrance is covered with decorative azulejos tiles, typical of traditional Portuguese architecture, and dates back to the 18th-century. 
After passing through the city gates, the main street of Rua Direita leads you past charming bougainvillaea-covered houses, craft stalls, souvenir shops and plenty of cafes and bars where you can sample the famous Ginjinha liqueur, often served in a novelty chocolate cup! 
Rua Direita leads all the way to Obidos Castle, one of the towns most recognisable landmarks and a must-visit on a trip to Obidos. This medieval castle was built in the 13th-century, although parts of the structure date all the way back to the 9th-century! Its impenetrable walls are now home to a luxury hotel since it was renovated in the 1960s but the exterior remains as imposing as ever. If you visit Obidos in July, you'll be treated to the annual Medieval Festival which takes place in and around Obidos Castle. Expect to find all manner of medieval revelry, including performances from jesters in traditional costumes, a huge market selling all kinds of foodstuffs and lots of entertainment and music. 
Although these are the main attractions to see if you travel to Obidos, the churches of Santa Maria and Sao Pedro are also worth a visit, thanks to their charming facades and ornate interiors. The town of Obidos also attracts a number of keen golfers, as nearby you'll find a number of excellent golf courses, including the world-famous Praia D'El Rey Golf Course, said to be one of the best in Europe.
Copyright 2013-2023 Exoticca. All Rights Reserved.
80 Southwest 8th Street Brickell Bayview, Miami, FL 33130, United States