Call us toll-free now
Book with an expert for free:
1-888-488-0592
Prefer us to call you? Drop your number in the box:
24 hours a day, 7 days a week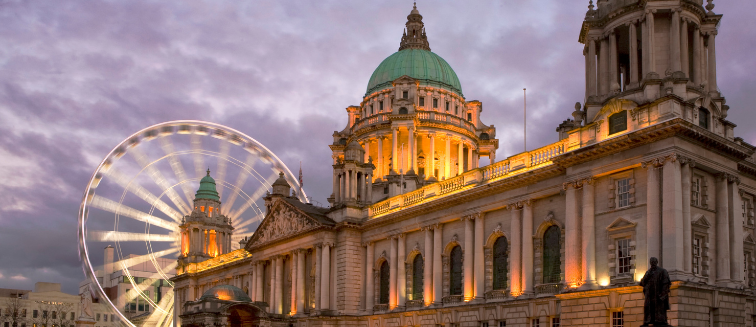 What to see in Ireland
Belfast
Tourist attractions Belfast
The capital and largest city in Northern Ireland, Belfast sits on the River Lagan in the northeast of the island of Ireland. Famously the birthplace of the ill-fated Titanic, Belfast has a rich history of shipbuilding and its historic dockyards are among the most visited attractions in the city. A major center of linen production during the Industrial Revolution, Belfast was first granted city status in 1888 and has been a beacon of industry, shipbuilding and culture ever since. In more recent years, Belfast has seen its share of political unrests both during the partition of Ireland and, later, throughout The Troubles. 
Today, following years of peace and relative calm, Belfast has become known as a city of vibrant nightlife with a thriving cultural calendar and an excellent art scene. Theatres, museums, galleries and live music are all things Belfast does incredibly well. Add to this an ever-growing selection of world-class eateries that make the most of Northern Ireland's fresh produce and fishing waters and you've got the perfect destination for a city break.
Home of Stormont, the seat of Northern Ireland's regional government, as well as an array of Georgian, Victorian and Edwardian architecture, there's certainly something impressive about Belfast's cityscape. Juxtaposed by the ultra-modern Titanic Quarter, visiting Belfast is the chance to uncover a city shaped by remarkable events still within many of our living memories. 
Things to see in Belfast
Of course, if you travel to Belfast, at the top of your list of things to see will be the world-famous Titanic Belfast. Housed within a spectacular star-shaped edifice, this tribute to Belfast's most famous creation is more than just your standard museum. A state-of-the-art multimedia center lets visitors explore every detail of the legendary Titanic, from its construction to life on board and features poignant stories from the ship's survivors. A highlight of the exhibition, laid out across nine galleries, is the real-life recreation of the city's shipyards during their heyday.
For a spot of shopping, one of the best things to do in Belfast is to visit St. George's Market, the oldest market in Ireland. First opened in 1896, today the market opens on Fridays, Saturdays and Sundays. This beautiful piece of Belfast's Victorian heritage also hosts live music performances and local craft fairs. A brilliant place to visit in Belfast at the weekend.
Another important surviving part of Victorian Belfast is its extensive Botanic Gardens. One of the best places to visit in Belfast on a summer's day, the beautiful central Palm House is a must-see. Nearby, the red-brick Tropical Ravine greenhouse is home to all manner of tropical palms and foliage. Located at the entrance to the gardens you'll also find another of Belfast's most important sights: the Ulster Museum. Here you can uncover the complex local history through a series of interactive exhibits. The museum also houses a number of priceless treasures, including Iron Age Celtic artefacts. 
Finally, for a look at the more recent history of Belfast, be sure to visit some of the city's colorful murals. Decorating the walls which once symbolized sectarian divides, these original murals are a window into the divisions that existed in this city and across Northern Ireland during The Troubles. One of the most important and poignant parts of living history to discover when you travel to Belfast. 
OUR BEST TRIPS TO BELFAST
Copyright 2013-2023 Exoticca. All Rights Reserved.
80 Southwest 8th Street Brickell Bayview, Miami, FL 33130, United States