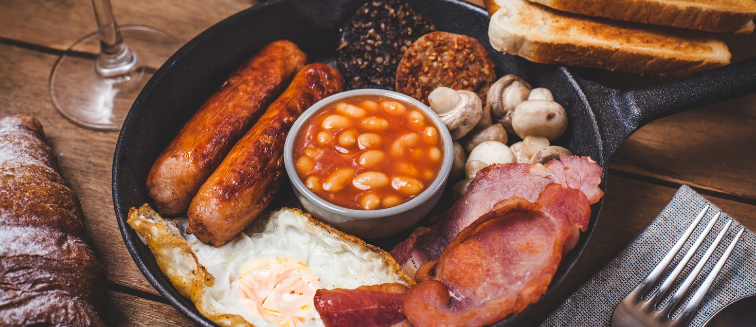 Food In Ireland
In recent years, Irish cuisine has gained popularity and today, many travelers visit Ireland simply to indulge in the varied dishes that characterize this popular gastronomy. Traditional Irish cuisine has evolved over many centuries and is influenced by Ireland's agricultural and fishing traditions. From hearty stews to the simple yet timeless baked potato, Irish cuisine is renowned for its ability to transform everyday ingredients into comforting and nourishing dishes, perfect for the often cold and wet Irish climate. Furthermore, Irish dishes have also been shaped by British and European influences over the centuries, so eating your way through the island of Ireland is also the chance to uncover the cultures and histories that have forged modern Irish cuisine today.
Baked potato 
The humble baked potato is a cornerstone of Irish cuisine. Warming, affordable and versatile, you can find baked potatoes, also known as 'jacket potatoes', on the menu of any cafe or lunch spot in Ireland. Furthermore, they make the perfect side to many meat-based dishes. Generally, baked potatoes are whole potatoes, baked until golden and crisp in an oven before being sliced open and filled with delicious toppings. Of course, a generous lump of Irish butter goes first, followed by fillings such as coleslaw, cheese or baked beans. 
Black and white pudding
At the heart of any true Irish breakfast is black and white pudding. An opinion-dividing food, black pudding is made with pig's blood, and white pudding is made with pork liver. An Irish blood sausage, black pudding is famous throughout the world, but white pudding is less well-known. White pudding can be traced back to Medieval times when it was invented as a way to use up offal, but nowadays it's one of the most popular dishes in traditional Irish cuisine. An integral part of an Irish breakfast, County Cork is where you'll find the best black and white pudding in the country. 
Bacon and cabbage
Generally agreed to be the national dish of Ireland, bacon and cabbage are a part of Irish heritage and can be found on the menus of almost any traditional Irish restaurant. Nowadays, you'll find modern restaurants in Ireland celebrating these simple ingredients in new and innovative dishes. Nevertheless, the traditional way to serve bacon and cabbage is to boil both ingredients and serve them with a creamy parsley sauce. Simple yet delicious, you cannot beat this warming Irish dish on a winter's day. Furthermore, some prefer to replicate the dish with corned beef instead!
Irish fries
The love of the humble potato goes far beyond the baked variety in Ireland, and Irish fries are just another way of celebrating this versatile ingredient. Sometimes known as 'Irish nachos', Irish fries are a modern invention consisting of thick, fried potatoes covered in a variety of toppings, most commonly melted cheese or gravy. Think of Irish fries, or 'chips, as big fluffy finger-sized potatoes, much bigger than the French fries you're familiar with. A filling and delicious Irish dish, these fries are often served in pubs as a sharing dish to enjoy with friends over a pint or two!
Pies
Pies come in all kinds of flavours and forms in Ireland. Traditional Irish meat pies consisting of minced meat and vegetables, encased in a simple puff pastry pocket are a particularly popular dish to enjoy during the St. Patrick's Day celebrations. Other variations include hearty steak and ale pies, found on the menu of any good Irish pub, and Irish stew pies, a great way to make your batch of stew go further! Any meat can be used within the pie, and this traditional Irish dish is usually accompanied by mashed potatoes and vegetables.
Irish Coffee
You cannot visit Ireland without indulging in a steaming cup of Irish coffee, a quintessential after-dinner beverage! This cocktail consists of black coffee, mixed with Irish whiskey and a teaspoon of sugar. Once the sugar is dissolved, the coffee is topped with a generous layer of cream. The alcohol-infused coffee is then drunk through the indulgent creamy topping! The Irish coffee is thought to have originated in County Limerick.