Call us toll-free now
Book with an expert for free:
1-888-488-0592
Prefer us to call you? Drop your number in the box:
Mon. to Fri.: available 24-hours Sat. and Sun.: 3:00 a.m. - Midnight (EST) Or call your preferred Travel Advisor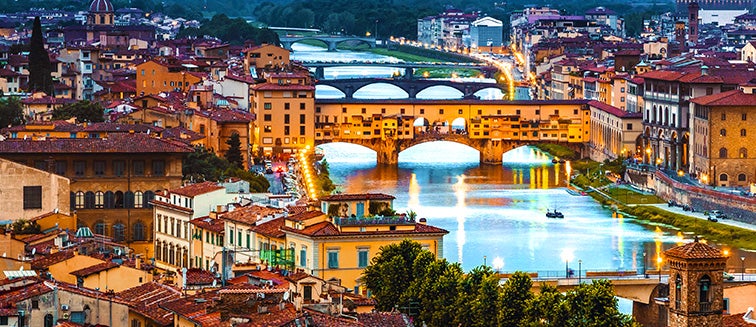 What to see in Italy
Florence
Tourist attractions Florence
Florence is a city situated in the north of the central region of Italy, capital of the Tuscany region, of which it is the historical, artistic, economic and administrative centre. Capital of Italy from 1865 to 1871 during the Italian unification, in the middle ages it was an important cultural, economic and financial centre. Its era of greatest splendour was following the establishment of the Grand Duke of Tuscany under the rule of the Medici Dynasty. Florence is the urban nucleus from where the Renaissance art movement emerged in the second half of the 14th century and it is considered one of the world cradles of art and architecture. Its historical centre was recognised as a UNESCO World Heritage site in 1982 and features medievaland renaissance works such as the Florence Cathedral, the Ponte Vecchio bridge, the Basilica di Santa Croce, the Palazzo Vecchio and museums such as the Uffizi Gallery, the National Museum of Bargello or the Galleria dell'Accademia, home to Michelangelo's David.
OUR BEST TRIPS TO FLORENCE
Copyright 2013-2023 Exoticca. All Rights Reserved.
80 Southwest 8th Street Brickell Bayview, Miami, FL 33130, United States