Call us for free now
Book with an expert for free:
+44 20 8068 3176
Prefer us to call you? Drop your number in the box:
24 hours a day, 7 days a week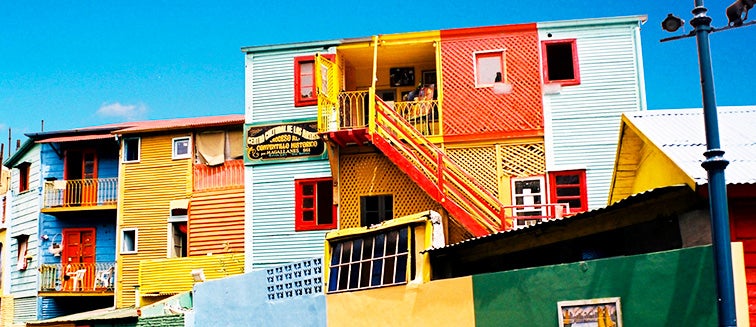 What to see in Argentina
Barrio La Boca
Tourist attractions Barrio La Boca
One of the most famous barrios, or neighbourhoods, of Buenos Aires, La Boca translates to 'the mouth', given its situation at the mouth of the Riachuelo River. With a backdrop of brightly coloured buildings, vibrant street art and faded colonial architecture, La Boca is bold, bright and beautiful in an unconventional, poetic sense.
Originally, the neighbourhood was home to a large number of immigrants from Genoa, who used to work in the shipyards, and La Boca still retains a strong Italian flavour today. Part artist-colony, part working-class neighbourhood, a tour of La Boca is the chance to discover one of the most authentic areas in the Argentina capital. 
La Boca's artistic revival can be traced back to the 1950s when resident artist Quinquela Martin helped to give the neighbourhood a fresh appeal by driving many philanthropic initiatives to put La Boca on the map for all the right reasons! Painting the houses in bright colours and organising community events, Martin helped La Boca to rise out of economic hardship and it soon began to attract collectives of artists and bohemian types. 
Although it still retains its gritty edge, you can't beat the mouth-watering parrilla barbeques of La Boca's modest cantinas or the soulful tango dancers that frequent the neighbourhood's streets come nightfall. 
Things to see in La Boca
There are two unmissable things to see in La Boca. The first is La Bombonera Stadium, home of Boca Juniors Football Club. Some of the biggest names in European football came out of this neighbourhood stadium, including football legend Diego Maradona, who first showed his star talents in La Bombonera. Guided tours are popular, but, better yet, grab a ticket for a local game and enjoy the electric atmosphere. 
Secondly, a trip to La Boca is sure to centre around Caminito, the most famous street in the neighbourhood and a tourist hotspot. Meaning 'little walkway' in English, this lively street is flanked by multi-coloured houses and is where La Boca's resident artists come to sell their artworks. Furthermore, tango dancers can be seen swirling seductively up and down the street, dazzling visitors with impromptu dance performances. If you want to experience La Boca in all its glory, Caminito is the place to go!
Finally, to uncover the artistic heritage of this area, the Museo de Bellas Artes Quinquela Martin is one of the best things to see in La Boca. Other than footballers, Quinquela Martin is La Boca's most famous resident and philanthropist. This fine art museum is housed within his former house and studio and contains a brilliant collection of early 20th-century artworks by Argentine artists. 
OUR BEST TRIPS TO BARRIO LA BOCA
Tourist attractions argentina