Call us for free now
Book with an expert for free:
+44 20 8068 3176
Prefer us to call you? Drop your number in the box:
Mon. to Fri.: available 24-hours Sat. and Sun.: 8am - Midnight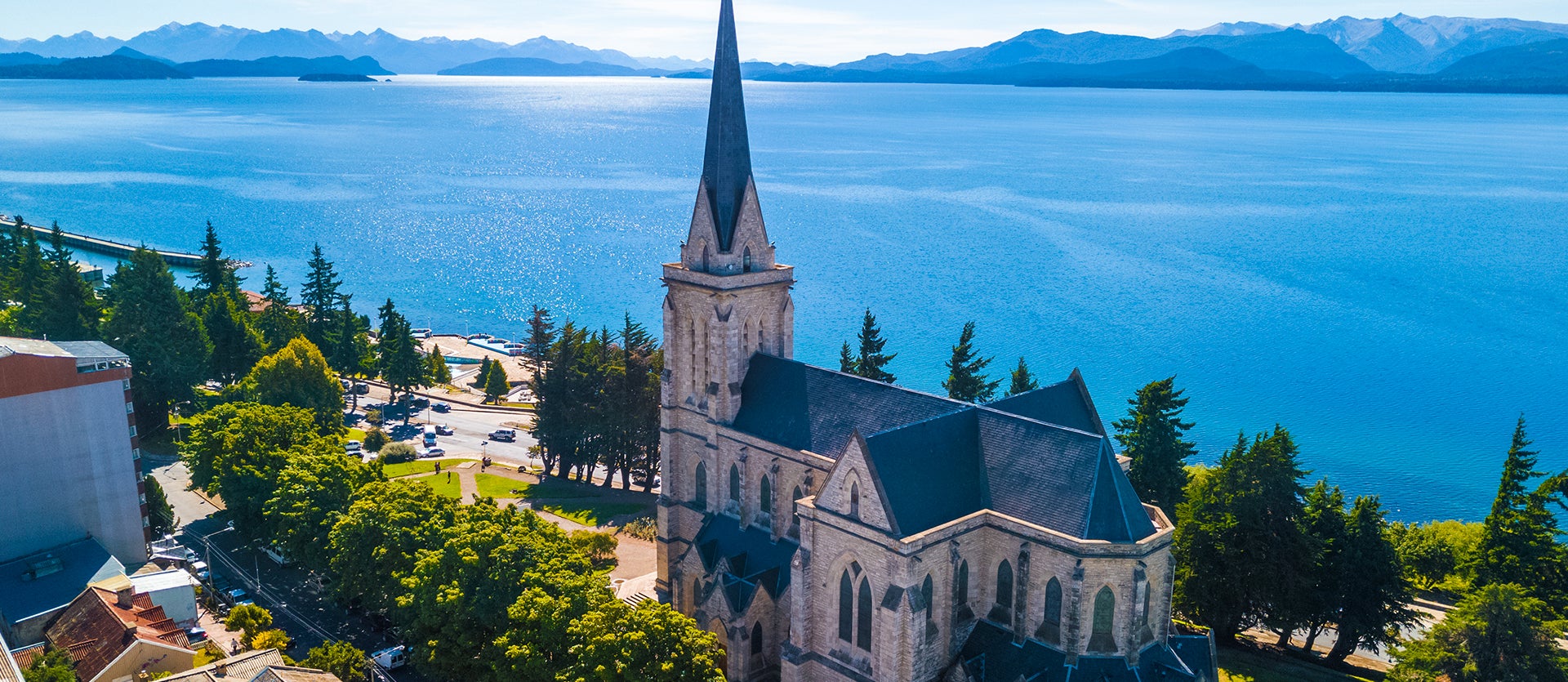 What to see in Argentina
Bariloche
Tourist attractions Bariloche
A paradise of forests, lakes and mountains, decorated with picturesque wooden architecture, Bariloche looks like something out of a storybook. Nicknamed the "South American Switzerland", this alpine town is located at the southern end of Lake Nahuel Huapi, within the national park of the same name. Gateway to the Andean lake region of Argentine Patagonia, nature lovers flock to this idyllic town to enjoy its fascinating scenery and numerous outdoor activities.
If you thought a trip to Bariloche couldn't get any better, the city is also considered the 'chocolate capital of Argentina', and you can indulge in the many chocolate shops dotted around the city. Surrounded by the spectacular peaks of Cerros López, Nireco, Catedral and Shaihuenque, whichever way you look at it, the scenery is breathtaking.
The town itself is as sweet as chocolate: wood and stone houses and log cabins give the town an endearing appearance, but, in reality, it is a very well-equipped destination, with great connections and excellent services catering to the large number of visitors who travel to Bariloche each year. Restaurants, shops, bars and cafés abound, along with a thriving craft beer scene.
A trip to Bariloche is great any time of year, but the city is at its best between July and September. This time of year is ski season, when nearby Cerro Catedral attracts snow sports enthusiasts to the area. On the other hand, visiting during the Argentine summer is just as rewarding, with countless hiking trails and opportunities for water sports on Lake Nahuel Huapi and the surrounding rivers.
WHAT TO SEE IN BARILOCHEThere are many things to see and do in Bariloche, but to really immerse yourself in its spectacular scenery, exploring the Nahuel Huapi National Park is a must. In fact, Bariloche lies within the national park, the oldest in Argentina and surrounded by the tranquil waters of Lake Nahuel Huapi. With an area of over 7,000 square metres, its landscapes are simply sublime and an excellent example of the true environment of the Patagonian Andes. Hiking, cycling, rafting and kayaking are just some of the ways to enjoy this natural paradise if you visit Bariloche. You'll also find numerous guided routes that start directly from the city centre.
In the city itself, one of the best things to see in Bariloche is the Cathedral of San Carlos de Bariloche, located on the shores of Lake Nahuel Huapi. Surrounded by beautiful gardens, this cathedral was built in the 1940s and is one of Bariloche's most recognisable landmarks. It is especially charming in winter, when it is covered with a delicate layer of snow.
To learn more about the region, be sure to visit the Museum of Patagonia. Although modest in size, the museum is a great introduction to the surrounding area and includes details of Patagonia's volcanic origins and traces the life of the famous explorer Perito Moreno. In addition, highlights of the exhibition include various cultural artefacts from local indigenous cultures.
You can't travel to Bariloche without tasting the local chocolate. Bariloche and chocolate make a perfect pair, and a stroll through the city will lead you to countless chocolate shops and chocolatiers. Here you'll find chocolate in all its forms, from animal-shaped creations to steaming cups of thick, gooey hot chocolate. Some of Bariloche's most famous chocolatiers include Rapa Nui, Frantom and the Habana Chocolate Factory.
Finally, whatever time of year you visit Bariloche, be sure to make the short 19km drive to nearby Cerro Catedral. This mountain town, the largest ski resort in the southern hemisphere, has more than 120 km of slopes in winter. If you visit in summer, you can enjoy great hiking trails and unforgettable views of Lake Nahuel Huapi from the top of Cerro Catedral.
OUR BEST TRIPS TO BARILOCHE
Tourist attractions argentina