Call us for free now
Book with an expert for free:
+44 20 8068 3176
Prefer us to call you? Drop your number in the box:
24 hours a day, 7 days a week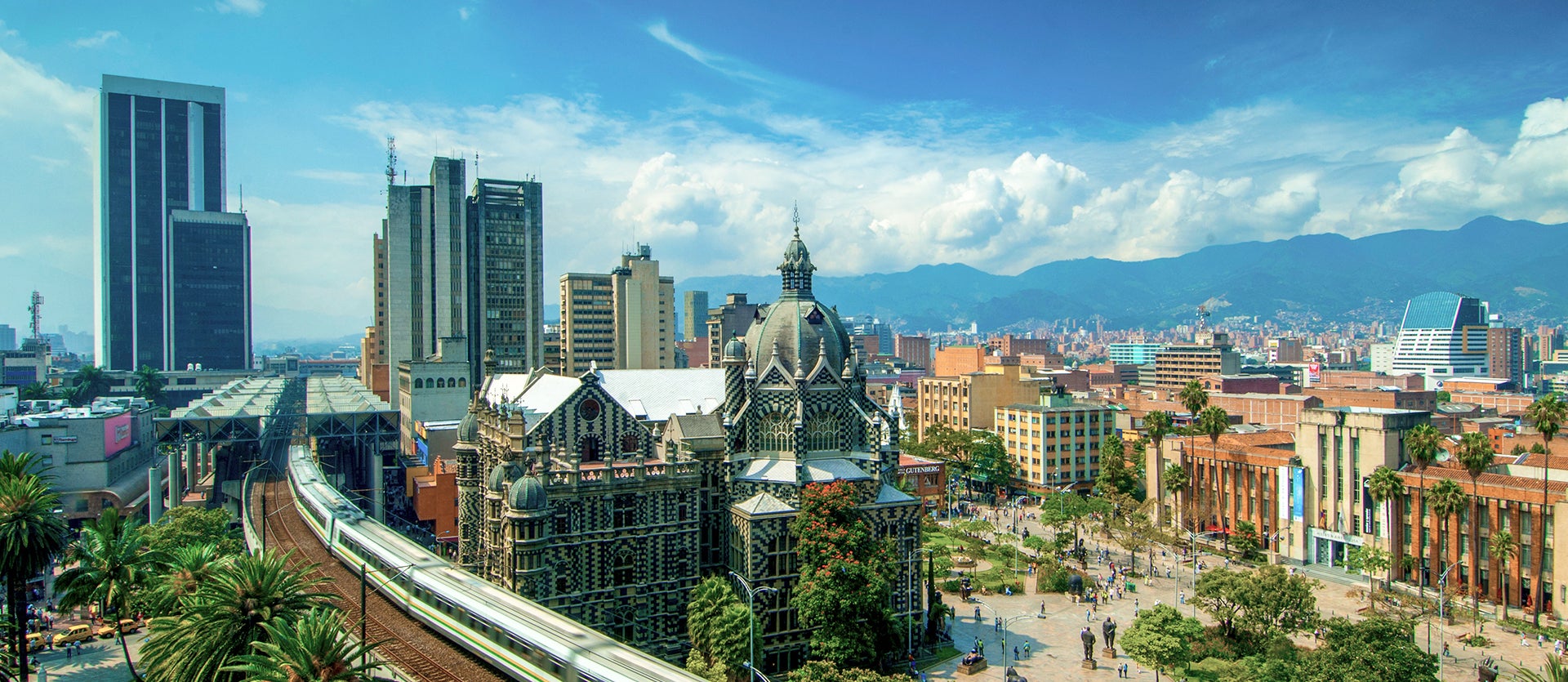 What to see in Colombia
Medellín
Tourist attractions Medellín
Capital of the Antioquia region of northwestern Colombia, Medellín is known as the 'City of Eternal Spring' due to its near-perfect year-round climate. Nestled in a narrow valley, Medellín boasts a rich history of industry and commerce and is known for its exports of cut flowers and textile manufacturing. As one of the most important cities in Colombia, a trip to Medellín is an unmissable chance to experience the country's modern urban culture. Founded in 1675, Medellín was originally a mining town, although few of its colonial-era buildings from this period remain intact today. Later, in the 20th-century, the completion of the Panama Canal and the arrival of the railroad brought rapid growth to the city. Today, many choose to visit Medellín to experience its rich cultural and artistic heritage, evident in the city's numerous world-class museums and galleries. Furthermore, Medellín's vibrant street art scene creates a colourful backdrop to your adventures in the city and areas once considered the 'most dangerous neighbourhoods in Colombia', now play host to artist communes, cultural events and street food tours. 
A holiday to Medellín is the chance to encounter the 'new Colombia', with a youthful atmosphere and 'work hard, play hard' mentality. This vibrant city boasts great infrastructure and an efficient metro and cable car system, making exploring Medellín a real treat. A true city of contrasts, Medellín retains a certain edginess but is better known for its cafe culture, rooftop bars and excellent nightlife nowadays. Furthermore, it's a fantastic shopping destination, thanks to its thriving manufacturing industries, and the ideal base for exploring other notable destinations in northern Colombia, such as Puebla or colourful Guatape.
Things to do in Medellín
A trip to Medellín is the chance to delve deeper into Colombia's rich and varied artistic heritage. The city is bursting with galleries and museums, some of the most notable of which include the Museo de Arte Moderno de Medellín, for contemporary works, and the Casa Museo Pedro Nel Gómez, dedicated to the prolific local painter of the same name. Of course, no tour of Medellín would be complete without a visit to Plaza Botero, situated in the heart of the city. This public square contains 23 incredible sculptures by famous Colombian artist Fernando Botero. His characteristic figures, sculpted in bronze, are true icons of the city, and Plaza Botero is the perfect place to soak up the atmosphere of Medellín and enjoy an afternoon stroll.
To learn more about the cultural and historic heritage of the city, one of the best things to do in Medellín is to pay a visit to the Museo Casa de la Memoria. This fascinating, yet poignant, exhibition traces the history of urban conflict in Medellín and wider Colombia. It's a key place to visit if you'd like a greater understanding of politics and society in modern-day Colombia.
To get to the heart of the city, one of the best things to do in Medellín is to pay a visit to the famous neighbourhood of Comuna 13. Once considered the most dangerous area in the city, Comuna 13 has undergone an incredible transformation over the last few decades. Clinging to the hillsides above the city, the neighbourhood is famed for its beautiful street murals and its escaleras, street escalators that have helped connect previously marginalised parts of the city. Of course, it is the people of this community that make it such a rewarding place to visit, therefore a guided tour of Comuna 13 is recommended in order to get to know the neighbourhood's gritty past and prosperous future!
Tourist attractions colombia