Call us for free now
Book with an expert for free:
+44 20 8068 3176
Prefer us to call you? Drop your number in the box:
24 hours a day, 7 days a week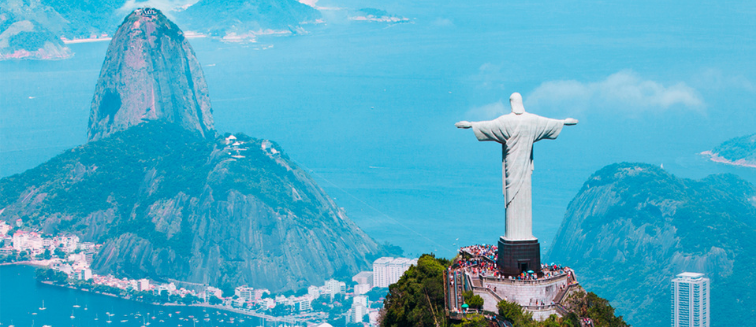 What to see in Brazil
Christ the Redeemer
Tourist attractions Christ the Redeemer
One of the Seven Wonders of the Modern World, this Art-Deco creation sits atop Corcovado Mountain in Rio de Janeiro, Brazil. Keeping a benevolent watch over the city, Christ the Redeemer was completed in 1931 and has since become a globally recognised symbol of Brazil.
The fourth-largest statue of Jesus Christ in the world, measuring 30 metres tall and 28 metres wide, Christ the Redeemer was the result of many years of planning. The idea to build a religious monument at the peak of Corcovado Mountain can be traced back to a local priest in the 1850s, but it was not until the post-WWI years that the project gained momentum. The local community and religious groups in Rio were becoming increasingly concerned about the lack of faith in Brazil and proposed the construction of an icon of Christ to oversee the city and remind the people of Rio of his eternal presence. In 1922 the project got the go-ahead and a handful of master sculptors and designers collaborated to craft this iconic statue over the course of 9-years.  French sculptor Paul Landowski, Brazilian engineer Heitor da Silva Costa, French engineer Albert Caquot and Romanian sculptor Gheorghe Leonida are all credited with the creation of Christ the Redeemer.
If you visit Christ the Redeemer you might wonder how such an enormous statue came to be constructed in such an inaccessible location. In fact, the statue was carved in smaller, separate sections so it was a case of assembling the different parts at the top of Corcovado. The sections were transported to the peak on a small cog-wheeled train and after years of painstaking work, the statue was finally opened to the public in 1931.
If you visit Christ the Redeemer today, the striking size and elegance of this iconic statue are sure to leave you speechless. As well as breathtaking views of Rio de Janeiro from the top, a small chapel, housed within the pedestal platform, is another reason to make the journey to Christ the Redeemer. This tiny chapel hosts frequent services as well as weddings and baptisms. 
The most popular and traditional choice to reach Christ the Redeemer is to take the cog-train up to the peak, a journey of around 20-minutes. Other options include public transportation, a dedicated van service or a 1.5-hour hike through Tijuca Forest National Park. 
OUR BEST TRIPS TO CHRIST THE REDEEMER