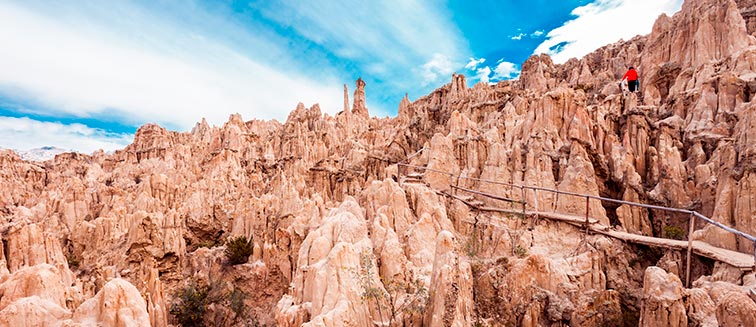 What to see in Bolivia
Luna Valley
Tourist attractions Luna Valley
Located 10 km from La Paz, the Valley of the Moon is a fantastic landscape, reminiscent of other-worldly terrain, hence it is named after the moon. Mountains of clay, eroded by the wind over thousands of years, have taken the form of peaks, cones, craters and pipes or chimneys. Thanks to its varied mineral composition, you can see different shades ranging from white to violet through browns and reds. Inspired by the lines of its silhouettes, some of these curious structures have been named, such as The Tortoise Mound, Lady's Hat and Mother Moon.
A beautiful and unusual semi-desert area with unique geological formations of stone stalactites and different species of cactus, typical of a lunar landscape. The Valley of the Moon is an important tourist attraction, popular with all travellers who explore Bolivia on a package holiday.
OUR BEST TRIPS TO LUNA VALLEY

Do you want expert advice?
We can help you choose the best destination for your trip.