Call us for free now
Book with an expert for free:
+44 20 8068 3176
Prefer us to call you? Drop your number in the box:
24 hours a day, 7 days a week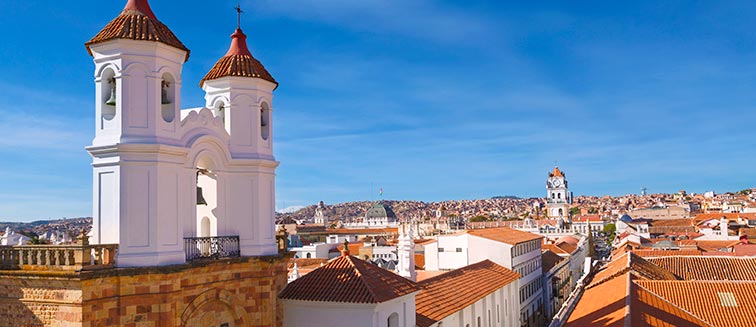 What to see in Bolivia
Sucre
Tourist attractions Sucre
In a broad valley in southern Bolivia rises the constitutional capital. Founded in 1538 by the Spaniard Anzures on the Indian settlements of the Charcas Indians, it was renamed La Plata in the viceroy period, Chuquisaca in the Republican era and Sucre in the present time of the Republic since its independence was proclaimed in 1826.
Its historic centre, declared a World Heritage Site by UNESCO, boasts an impeccable colonial monumental architecture that is reflected in its homes, in its checkerboard-shaped streets and in its squares. Its most emblematic buildings are The House of Liberty where independence was proclaimed and is today a museum; the Metropolitan Cathedral, constructed in a Renaissance and Baroque style; the Convent of San Felipe Neri; La Recoleta, a monastery famous for its courtyards and gardens; and the Basilica of San Francisco with its roofs with five kinds of coffered ceilings.
The colour of the facades of the city's houses has given it the name of "the white city of Bolivia" which contrasts with the green of the Sicasica and Churruquella massifs that protect it, and of the gardens and parks, such as Bolívar Park where the Palace of the Supreme Court is located. The museums of the city are diverse, and include the Santa Clara Art Museum, an anthropological museum and a Natural History museum.A short walk through this quiet city allows visitors to breathe in its important historical significance. Illustrious and heroic Sucre, is at the heart of Bolivia and is an unmissable stop on any tour of the country.
Tourist attractions bolivia