Call us for free now
Book with an expert for free:
+44 20 8068 3176
Prefer us to call you? Drop your number in the box:
24 hours a day, 7 days a week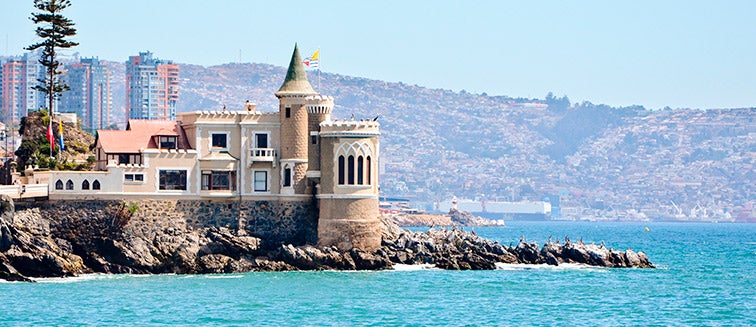 What to see in Chile
Viña del Mar
Tourist attractions Viña del Mar
Viña del Mar is a coastal city in northeastern Chile, perched on the shore of the Pacific Ocean. Known as the 'Garden City', Viña del Mar stylishly combines sandy beaches, modern high-rises, a thriving watersports scene and colonial-era architecture to create a laid-back paradise and the destination where Chileans come to let their hair down.
Part of the greater area of Valparaiso, Viña del Mar is a popular summer resort destination. Its history goes back to the colonial era when this coastal valley was home to a huge hacienda, owned by the Carrera family. 
Day trips to Viña del Mar are popular from nearby Valparaiso, a colourful coastal city just 15 minutes away by rail or road. On the other hand, Santiago is only 1.5 hours away. The beachfront here is home to luxurious ocean-view condos, bars and restaurants, but dig a little deeper and you'll find elegant palaces and villas, idyllic green spaces and beautiful palm-lined boulevards in the oldest corners of town.
Between December and March, the town is filled with all the revelry of summertime, along with hoards of wealth Santiagoan vacationers, making it the best time to visit Viña del Mar to see the town in its full glory. The annual music festival is just another reason to travel to Viña del Mar.
Things to see in Viña del Mar
One of the best things to see in Viña del Mar is Wulff Castle, the symbol of the city. Harking back to the years of German migration to Chile, this historic castle is perched on a hill overlooking the Pacific. Built in 1906 by a wealthy German migrant for himself and his family, today the castle houses an interesting heritage museum. The surrounding area of Cerro Castillo is filled with extravagant restored mansions, epic views of the city and sea and the summer palace of the Chilean president, making it the perfect place for an evening stroll.
One of the highlights of a trip to Viña del Mar is visiting the Quinta Vergara Park. Home to beautifully landscaped gardens, a Venitian-style palace and a huge amphitheatre, where the annual music festival takes place, this park certainly ensures that the nickname of 'Garden City' rings true!
If you've always dreamed of visiting Easter Island, the next best thing is to visit Viña del Mar's Francisco Fonk Archaeology and History Museum. Home to an incredible Rapa Nui exhibition, including a real-life Maoi figure, this is one of the best things to see in Viña del Mar. The museum also houses an array of fascinating artefacts for the early cultures of Chile.
Outside town, other places to visit in Viña del Mar include the Botanical Gardens and the Concon Sand Dunes, a popular sandboarding spot!
OUR BEST TRIPS TO VIñA DEL MAR