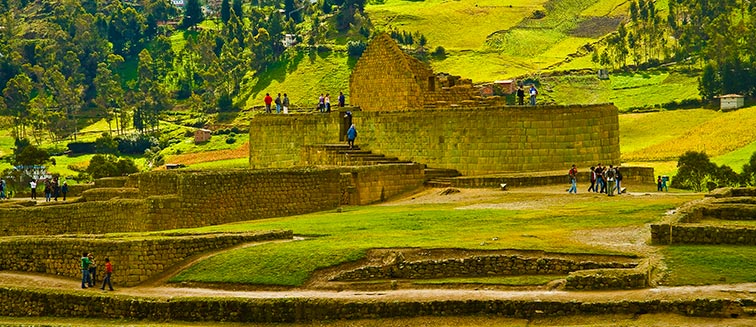 What to see in Ecuador
Ruins of Ingapirca
Tourist attractions Ruins of Ingapirca
The Ruins of Ingapirca are the most important pre-Columbian archaeological site in Ecuador and a World Heritage Site as declared by UNESCO. It is located in the south of the country in the province of Cañar, at an altitude of 3160 meters above sea level and its name means "wall of the Inca" in Quechua.
The story tells that the Inca Túpac Yupanqui, during the campaigns of expansion of his empire through the south of Ecuador, met the cañari tribe "Hatun Cañar" and got married, strategically, with the princess Cañari Paccha, from whose union Huayna Cápac was born in the city of Pumapungo, currently Cuenca. The Cañari people built this complex for him and although the Incas were more numerous and dominated the Cañari, they did not demand that they give up their autonomy and kept their separate individual customs, thus resolving their differences in order to coexist peacefully and merge their civilizations.
It was an important religious, political, scientific, military and administrative centre and is made up of a cemetery, solar observatories, a temple, warehouses, priests' apartments, a ceremonial plaza and cobblestone streets.As in other important Inca ruins, Ingapirca also built a sophisticated underground aqueduct system to distribute the water throughout the complex. The Incas built with chiselled rocks with hardly any space in between, while in the Cañari architecture they lightly join the rocks with mortar.
The religions of the Incas and the Cañaris were very different: the former worshipped the sun, while the latter were worshipers of the moon. Although the city is cougar-shaped, the complex reflects the crescent moon. As a place of worship, there were numerous ritual celebrations. Supposedly, large quantities of a fermented drink called Chicha were used in these festivities.
The different architectural constructions that can be seen in the complex are:The Castle of Ingapirca or Temple of the Sun: Constituting one of the main samples of the Inca architecture. Elliptical and located on top of a hill, it housed chambers, patios, cellars and baths and was once surrounded by stone walls. Its strategic position suggests a ceremonial use that allowed to identify the rising and setting of the sun, which affected the temple during the solstice illuminating sacred elements at a certain time of the day.Pilaloma: The oldest building, composed of a series of rectangular rooms.
The Adoratory: Built by the Cañaris in honour of the Moon, its main God, it is the centre of the archaeological complex. Its construction is elliptical and its walls have a maximum elevation of fewer than four meters. Both the door and the niches located on the walls have a trapezoidal shape and the blocks of carved stone are stacked without any kind of mortar or cement.
OUR BEST TRIPS TO RUINS OF INGAPIRCA

Do you want expert advice?
We can help you choose the best destination for your trip.