Call us for free now
Book with an expert for free:
+44 20 8068 3176
Prefer us to call you? Drop your number in the box:
Mon. to Fri.: available 24-hours Sat. and Sun.: 8am - Midnight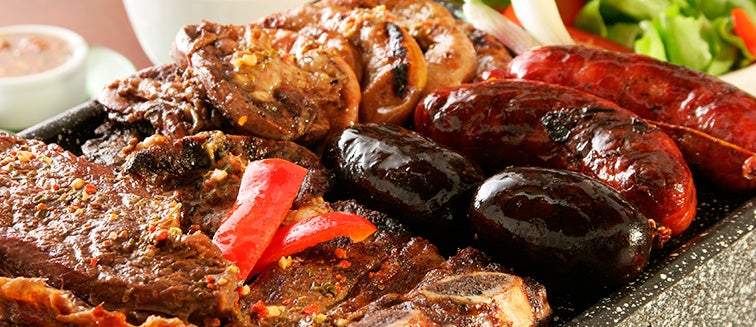 Food In Argentina
With Italian and Spanish influences, Argentine cuisine is characterised by its variety of meats and in particular, it's beef or 'asado' as seen in the popularity of Argentinian Steakhouses throughout the world. Grilled veal and pork are also very common.
The sauce that accompanies the meat, chimichurri, is one of the best-known delights of Argentinian cuisine, and there is no lack of sausages, rich empanadas filled with numerous ingredients or delicious sweet dishes, such as the famous alfajores. Although in Argentina you can find different types of drinks, the most widely consumed is mate, the tea infusion that has become a symbol of the country and whose consumption is a ritual for Argentines.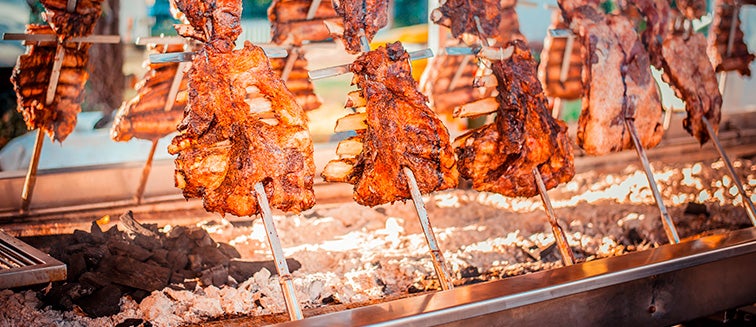 Asado
The quintessential Argentine dish and one of the delights of the country. It consists of different pieces of grilled meat. Depending on the region, the technique may vary. The typical one among the gauchos is to hang the meat in an iron grill in the earth and to place it around the fire. In the cities it is also common to see grills, although most of them are not covered. The type of meat that is usually consumed is beef, lamb or veal, although it is also common to find grilled fish. The cut is also important, the most popular being the rib.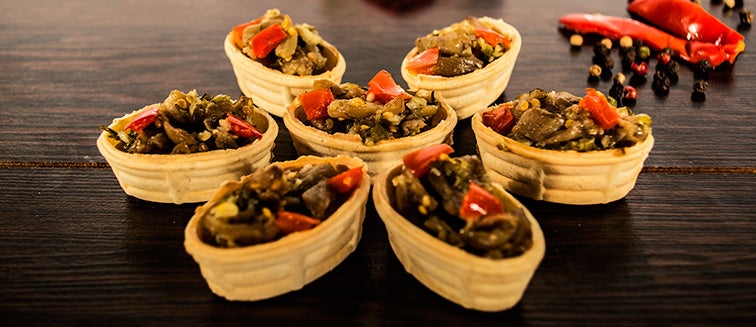 Aubergines
Prepared as an appetizer, in sandwiches or as a garnish to go with Asado, pickled aubergines are one of the best-known foods on an Argentinean menu. Cooked with water and white vinegar, the aubergines are seasoned with oregano, pepper and garlic. In addition, they are usually served with olive oil. The flavor is soft and fits very well with other more complex dishes.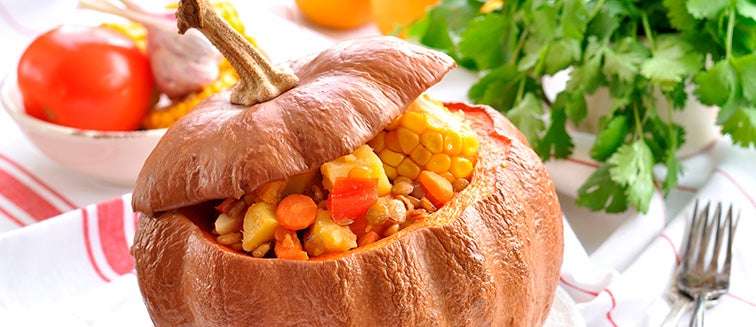 Carbonada
The carbonada is one of the most well-known stews of Argentine gastronomy. It is made up of pieces of pumpkin, soft corn, beef or lamb, sweet potato and peach that is boiled until the broth acquires a certain thickness. This also usually goes with paprika, parsley, onion, garlic, thyme and oregano, which offers a rich flavor to your sauce. This dish is usually cooked in a pot over a wood fire and its name comes from the appearance of the wood after its preparation.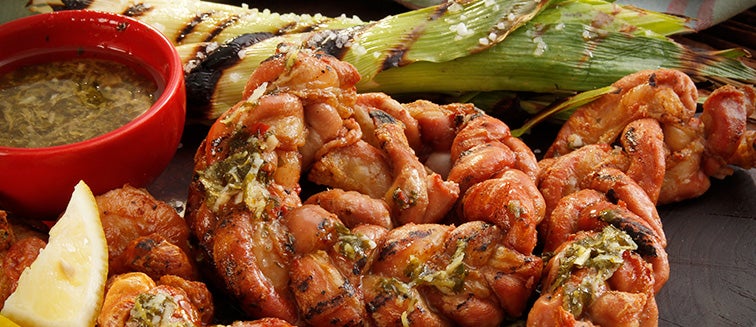 Chinchulines
This is the name given to the small intestine of a cow. Of Andean origin, it is frequent to find it in many of the Argentine restaurants, where they prepare it on a wood ember grill. Although it takes time to roast it, it is the most prized dish to be served at an Argentinian barbecue. In Patagonia, this dish is very common as in the past, due to geographical isolation, they used to eat all parts of the animal to avoid a shortage of food during the icy winter.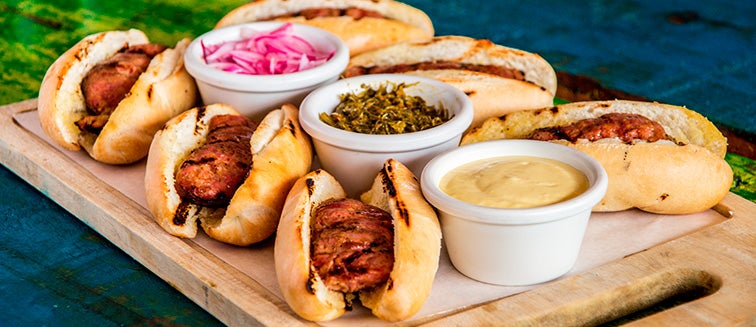 Choripan
Very typical of Argentine gastronomy, this dish consists of grilled chorizio stuffed between two pieces of bread. To give it more flavor, it can also be accompanied by chimichurri sauce, made with oregano, garlic and parsley. This fast food is typical of Río de la Plata, although it can now be found throughout Argentina, as well as other Latin American countries.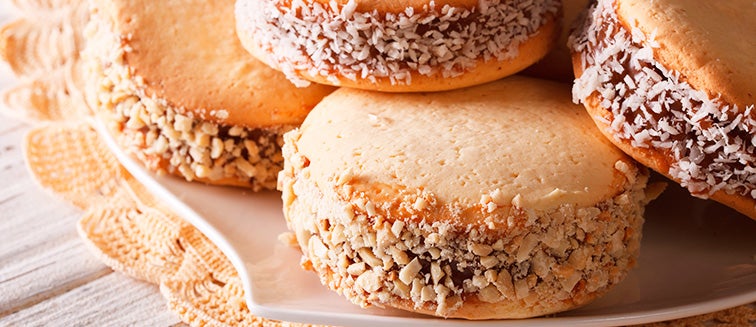 Cornstarch Alfajores
This typical Argentine sweet was introduced into the country during the pre-Columbian era. These are cookies made with butter, egg, sugar, cornstarch, vanilla extract and coconut that is then finished with a milk filling. The filling is flavoured with caramel making this one of the most popular sweet in the country. Once the cookies are baked, the alfajores are covered with chocolate and glazed.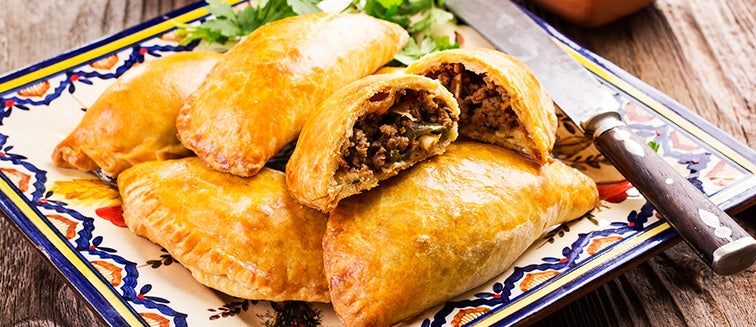 Empanadas
Empanadas are another of the gastronomic specialties of Argentina. Of Spanish heritage, this dish has many varieties depending on the region. One of the most popular is meat, which is usually seasoned with onion, and mixed with hard-boiled egg and olives. They are called tucumanas and sometimes they can also contain raisins. Chicken, ham, cheese or vegetables are some of the most common and easiest ingredients to find in restaurants and street stalls. Other popular empanadillas are the Cordovan variety, with a bittersweet flavor as they have sugar sprinkled on top. Sweet varieties include those stuffed with dulce de leche or quince.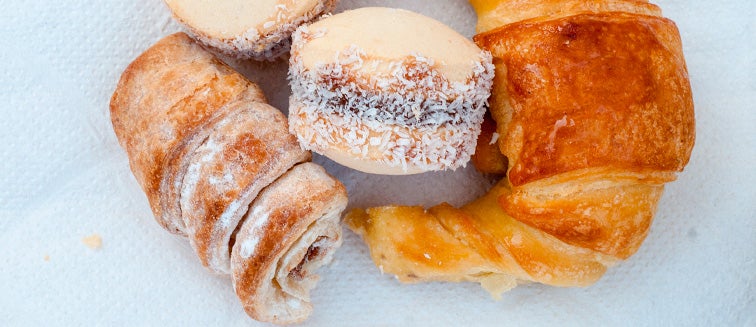 Facturas
Facturas are miniature sweet pastries which usually accompany mate and coffee. The best known are croissants, similar to the French croissant; sweet milk cañoncitos and Palmeiras, among others. Facturas can be found in all bakeries in the country and Argentines usually buy them by the dozens, because it is much cheaper.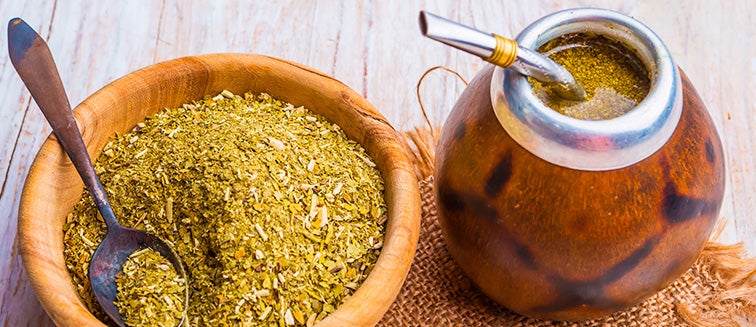 Mate
Mate is the quintessential drink of Argentina. It is part of their culture and the preparation, as well as the consumption, is a ritual for locals. They usually drink it in a social setting. This infusion made with yerba mate has a slightly bitter taste due to the tannin in its leaves. It is also frothy and stimulating, as it contains caffeine, and it is a digestive aid. Argentines usually take it at any time of the day, although it is ideal to accompany their sweet facturas, as well as after a meal. The mate is usually served hot in a round container and drunk through a special metal straw.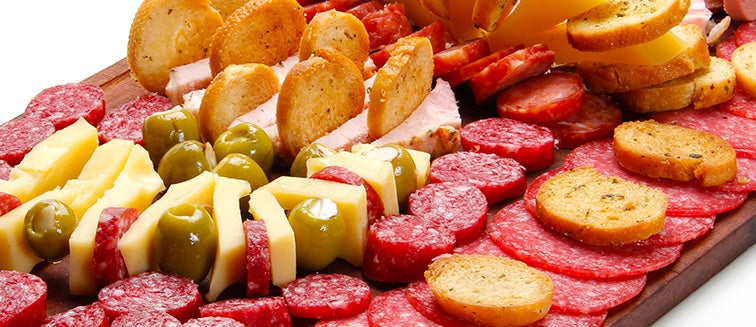 Picada
This typical Argentinian starter is made up of sausages such as ham, cheese, blood sausage, mortadella, olives, pâté or pizza, among others, which are usually accompanied by bread. It is perfect to share with friends and family at group events. Due to the Italian and Spanish influence from immigration, this dish has its origin in the antipasto of Italy and the cold cuts in Spain.
OUR BEST TRIPS TO ARGENTINA