Call us for free now
Book with an expert for free:
+44 20 8068 3176
Prefer us to call you? Drop your number in the box:
24 hours a day, 7 days a week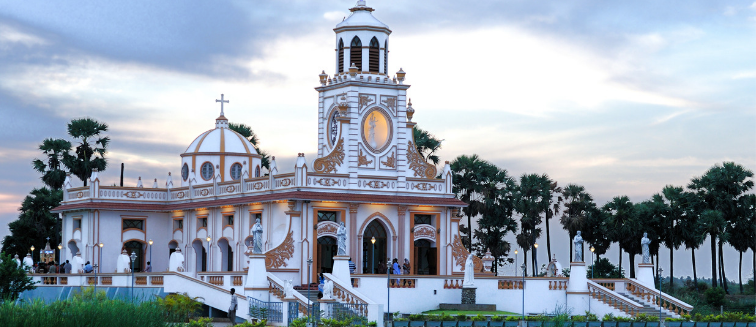 What to see in India
Pondicherry
Tourist attractions Pondicherry
A little slice of France in India, the tiny city of Pondicherry sits on the Bay of Bengal in the southern state of Tamil Nadu. This former French colony has retained a remarkable amount of its European charms, and still feels very continental today. Here you can indulge in fine wines, French cuisine and the French language is still widely spoken and understood.
Stroll through the leafy boulevards and rues of the French Quarter and you'll be forgiven for forgetting you're in India at all! Trips to Pondicherry often take on a spiritual component as the city's yoga and meditation centres are critically acclaimed and increasingly popular with celebrities and spiritual types from around the world. Auroville and Sri Aurobindo Ashram are two of the most famous centres, so there's always the opportunity to reconnect with yourself on a trip to Pondicherry.
Back in the old town, you can expect to see tree-lined boulevards, colonial villas and trendy boutiques selling chic wares that fuse together French style and Indian inspirations. The city is divided by a central canal and the west side possesses much more of the vibrancy and chaos that you might expect from India compared to the neighbourhoods along the coastline. The beach itself is beautiful, backed by a long promenade to enjoy evening strolls. 'East-meets-west' is one way to describe the city, although many who travel to Pondicherry feel that it possesses a peaceful charm, so you can simply kick back and do nothing, besides a little boutique shopping!
Things to see in Pondicherry
There are plenty of things to see and do in Pondicherry. From strolling through the historic centre to shopping at the Sunday Market or bustling Pondy Bazaar. If you're looking for a little tranquillity, head to Promenade Beach, the best place in the city for a morning or evening stroll. The longest beach in the city, its shady tree-lined promenade looks out across the Bay of Bengal. The perfect place to watch the sunset, be sure to make a stop at the statue of freedom leader, Mahatma Gandhi. 
To know more about the heritage of this region, a trip to Pondicherry Museum is one of the best things to do in Pondicherry. Home to the largest collection of Chola bronzes in India, this art and history museum is also famed for its Pallava dynasty stone sculptures and artefacts from Roman-era Europe.
Of course, visiting Pondicherry would be incomplete without exploring the enigmatic French Quarter. Also known as the White Town area, this is where you can enjoy Pondicherry's cosmopolitan French influence in all its glory. Architecture lovers can enjoy colourful, traditional French-style buildings, whilst foodies can sample French pastries alongside steaming cups of Chai tea! Home to tree-lined avenues and French cafes, this corner of Pondicherry is a must-see. 
Southwest of the city you'll find another of the best things to see in Pondicherry: the Sri Gokilambal Thirukameswar Temple. This Hindu temple is renowned for its magnificent architecture. Dedicated to Lord Shiva, the temple dates back to the Chola dynasty of the 12th-century and its rainbow-coloured sculptures are sure to capture your imagination.
Pondicherry's religious heritage is as diverse as its culture. Therefore you'll find all kinds of places of worship in the city. Perhaps the most famous is the Basilica of the Sacred Heart of Jesus, an eye-catching example of Gothic revival architecture. One of the most famous Christian pilgrimage destinations in India, this surprisingly colourful basilica is home to rare stained glass windows depicting the life of Jesus Christ. Dating back to 1907, it is a symbol of the city.
Finally, one of the most intriguing places to visit in Pondicherry is Auroville. Auroville is an experimental township, established in the 1960s and based on principles of unity and diversity. Inspired by yogic and spiritual ethics, the community is set across 20-square-kilometres, just north of Pondicherry. The town is open to visitors, who can explore the different areas and visit the Matrinmandir, a golden sphere at the heart of the central Peace Zone, where visitors and residents gather for quiet contemplation and meditation. There is no currency within the community. Instead, visitors can open a temporary account at the visitor centre and use this to purchase goods or dine at the wide array of eateries throughout Auroville. A unique place, it is home to over 3,000 inhabitants representing more than 59 nationalities. 
OUR BEST TRIPS TO PONDICHERRY