Call us for free now
Book with an expert for free:
+44 20 8068 3176
Prefer us to call you? Drop your number in the box:
Mon. to Fri.: available 24-hours Sat. and Sun.: 8am - Midnight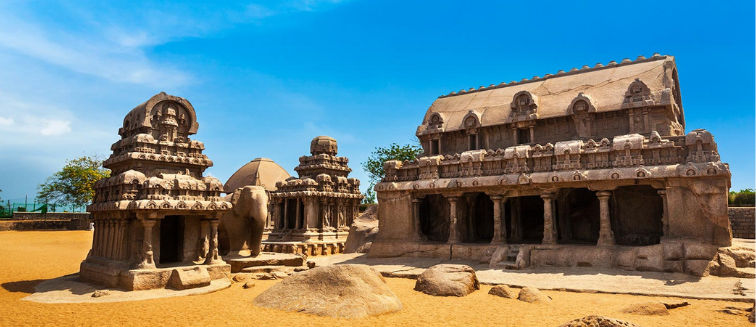 What to see in India
Mahabalipuram
Tourist attractions Mahabalipuram
Mahabalipuram is situated in the southeastern Indian state of Tamil Nadu. Although it was once a thriving port town, today it is considered one of the regions most important tourist destinations, famous for its ancient Dravidian architecture, temples and monuments. Easily reached from nearby Chennai, a trip to Mahabalipuram is a popular excursion for those looking to uncover some of the most astounding architecture in India. In fact, Mahabalipuram is one of the oldest cities in the country. It was ruled by the Pallava dynasty between the 3rd and 9th-centuries when this major seaport was chosen as the setting for an array of incredible royal monuments, the highlight of any tour of Mahabalipuram today!
The famous monuments of Mahabalipuram are UNESCO protected World Heritage Sites and include chariot-form temples, cave sanctuaries and incredible rock reliefs. Modern Mahabalipuram has grown up around these ancient relics of the Pallava Kingdom and this coastal town also boasts a beautiful stretch of golden-sand beaches and a range of accommodation options to provide for the large number of both national and international tourists who travel to Mahabalipuram. If you are taking a trip to Mahabalipuram it's also useful to know that there are plenty of amenities and restaurants for visitors, and as well as a trendy, up-and-coming surfing scene!
Things to see in Mahabalipuram
Of course, if you travel to Mahabalipuram, you'll want to explore its exceptional architectural treasures. Shore Temple is one of the best things to see in Mahabalipuram. As the name suggests, this ancient temple overlooks the coastline along the Bay of Bengal. Completed in the 8th-century, the temple was the culmination of the architectural creations initiated by the Pallava dynasty in Mahabalipuram. A complex of granite temples and shrines, it is considered one of the oldest structural stone temples in South India. Interestingly, it is thought that the temple acted as a navigational landmark during Mahabalipuram's golden era as an important seaport.
One of the most remarkable monuments to see if you visit Mahabalipuram is the Descent of the Ganges, a huge rock relief measuring 30 metres wide and 13 metres high. This skillfully carved rock relief depicts the much-loved Hindu story of the origins of the sacred River Ganges. The tale unfolds in beautiful detail across two monolithic rock boulders. Created between the 7th and 8th centuries, nowhere else in the country can you view such impressive rock-cut sculpture.
One of the most intriguing things to see in Mahabalipuram is known as Krishna's Butter Ball. This gigantic granite boulder seems to defy gravity, perched upon a steep hillside. This unique attraction gets its name from the Hindu god, Krishna, and his favourite food. As far back as the days of the Pallava Kingdom, attempts have been made to move this enormous boulder, but neither man nor elephant has been able to shift this mythical ball of granite!
Finally, a trip to Mahabalipuram would be incomplete without admiring the stone temples of Pancha Rathas. A complex of five stone-cut temples in the shape of chariots, these incredible architectural feats were completed in the 7th-century. Awe-inspiring Pancha Rathas is considered a brilliant exactly of the diversity of Dravidian architecture. 
OUR BEST TRIPS TO MAHABALIPURAM