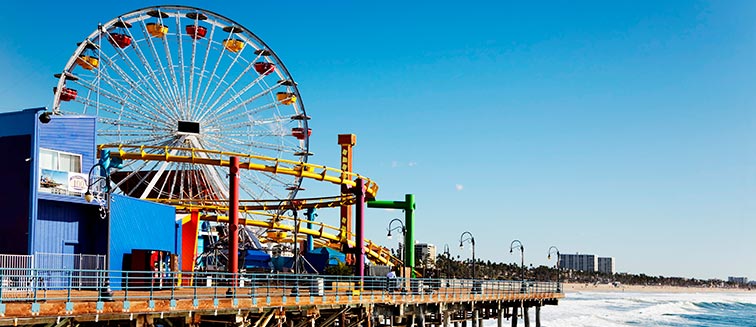 What to see in United States
Santa Monica
Tourist attractions Santa Monica
Known as being the stage for numerous television series, Santa Monica is located on the Pacific coast, just 30 minutes away from the metropolis of Los Angeles. Its huge beaches with light waves and the famous pier where the popular ferris wheel is located, are some of the attractions that tempt tourists and locals alike, hoping to enjoy the sunshine and the laid-back atmosphere.
Since the beginning of the 20th century, Santa Monica has been known for being one of the best holiday destinations in this part of California. In addition to its promenade, where there are numerous restaurants, coffee shops and tattoo studios. Another of its busiest streets is Third Street Promenade, where you can find clothing and accessories stores catering to all tastes, although surfing attire abounds.
Visitors to Santa Monica are spoilt for choice when it comes to restaurants and accommodation. From unique luxury hotels to quirky hostels, there is something to suit all tastes and styles. Simply sitting and people watching is entertainment enough in Santa Monica, and balmy evenings can be spent watching the street performers, roller skaters, basketball matches and surfers as the sun goes down.
OUR BEST TRIPS TO SANTA MONICA

Do you want expert advice?
We can help you choose the best destination for your trip.