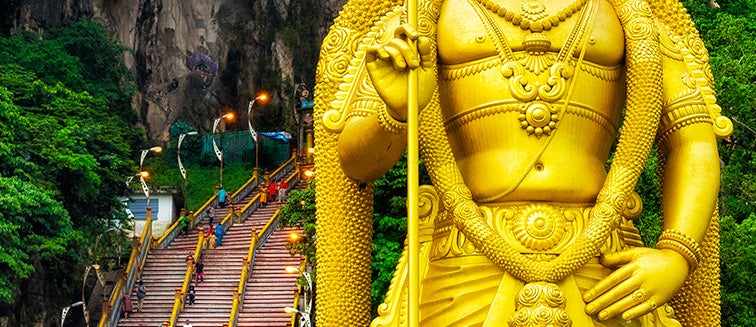 What to see in Malaysia
Batu Caves
Tourist attractions Batu Caves
This Hindu shrine is one of the most popular Hindu sites outside of India. It is located on the outskirts of Kuala Lumpur and takes the name of the river and the village located nearby. The most striking part of the temple is its exterior, presided over by a huge golden statue of representing Murugan, the god of war to which the caves are consecrated. Before climbing the numerous steps there are also several temples with paintings and sculptures typical of Hinduism to enjoy. At the top is where the cave of the Cathedral is located, a cavity of 100 meters high where the main sanctuary is located. Inside you can see an altar, several figures characteristic of this religion, as well as offerings that believers have given to the Gods. A good time to visit is during the Thaipusam festival, in January or February, when the victory of good over evil is celebrated and Murugan receives flowers and offerings.
OUR BEST TRIPS TO BATU CAVES

Do you want expert advice?
We can help you choose the best destination for your trip.