Call us toll-free now
Book with an expert for free:
1 778 807 9750
Too much? We'll call you. Drop your number in the box:
24 hours a day, 7 days a week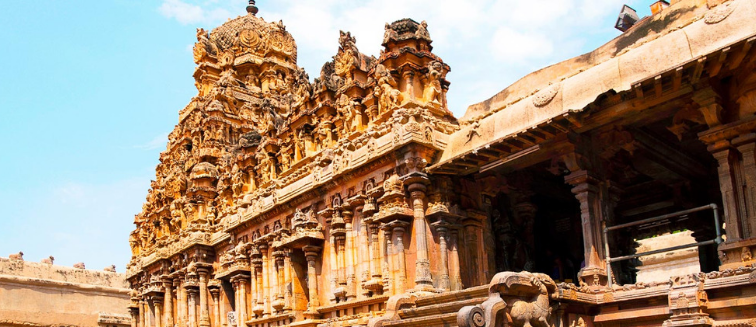 What to see in India
Thanjavur
Tourist attractions Thanjavur
Formerly Tanjore, the historic city of Thanjavur is located in the south Indian state of Tamil Nadu and is famed for its ancient temples, historic palaces and diverse cultural attractions. Once the majestic capital of the Chola Kingdom, between the 10th and 14th centuries, a tour of Thanjavur will take you up close to the relics of this ancient centre of learning. Travel to this captivating, historic city to uncover the religious, artistic, and architectural traditions of South India.
The biggest attraction is the impressive Brihadeeswara Temple, over 1000 years old, it is the crowning glory of the city and an amazing example of South Indian architecture. Dedicated to the Hindu god, Shiva, the temple has a simply magical exterior appearance, although the interior is equally as brilliant, owing to the intricate and colourful frescoes that cover the walls. As well as its cultural attractions, the area is known for its rice cultivation, and Thanjavur is nicknamed the 'Rice bowl of Tamil Nadu' owing to its large number of rice paddies. Furthermore, you cannot travel to Thanjavur without admiring the traditional artform of Tanjore painting, a technique unique to the ancient capital.
Pilgrims descend on the city to worship at the historic temples where you can watch devotees placing offerings to the eternal gods. In fact, many of the Great Living Chola Temples, a collection of UNESCO World Heritage Sites, are located in and around Thanjavur. Other sights to see in Thanjavur include the charming Thanjavur Maratha Palace, a glorious royal complex home to the Saraswathi Mahal Library, which houses, among its many treasures, precious manuscripts, some of which are so ancient they're written on palm leaves. The Maratha Palace is also known for its dazzling architecture, including the rainbow-coloured columns of its interior Durbar Hall.  A trip to Thanjavur offers visitors the opportunity to experience the culture, arts and religion of South India. 
OUR BEST TRIPS TO THANJAVUR
Copyright 2013-2023 Exoticca. All Rights Reserved.
Exoticca Travel Canada Inc 229 Yonge St Suite 400 Toronto, Ontario M5B 1N9 Canada