Call us toll-free now
Book with an expert for free:
1 778 807 9750
Too much? We'll call you. Drop your number in the box:
24 hours a day, 7 days a week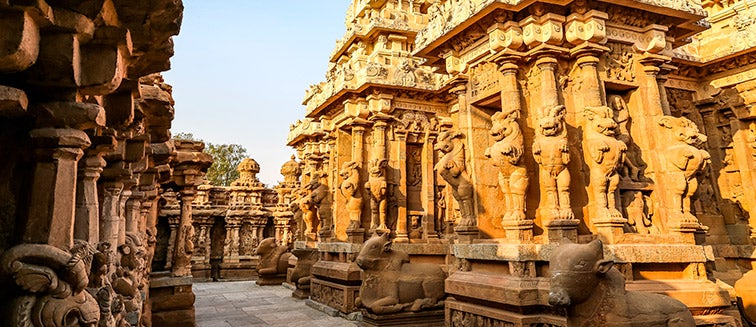 What to see in India
Kanchipuram
Tourist attractions Kanchipuram
Kanchipuram, often referred to as the "City of a Thousand Temples," is a historic and culturally rich city located in the southern Indian state of Tamil Nadu. Renowned for its exquisite silk sarees and deep-seated religious significance, Kanchipuram is a treasure trove of ancient temples, each bearing intricate architectural beauty and intricate carvings that reflect the grandeur of Dravidian art and culture.The city has a legacy of over a thousand years and is a pilgrimage site for Hindus. It holds a prominent place in the history of South India, having served as a flourishing center for religion, art, and trade. The Kanchipuram silk sarees, woven with precision and intricate designs, are sought after by fashion enthusiasts worldwide, making Kanchipuram a vibrant blend of tradition and craftsmanship that continues to captivate both the devout and the fashion-conscious.
OUR BEST TRIPS TO KANCHIPURAM
Copyright 2013-2023 Exoticca. All Rights Reserved.
Exoticca Travel Canada Inc 229 Yonge St Suite 400 Toronto, Ontario M5B 1N9 Canada