Call us toll-free now
Book with an expert for free:
1 778 807 9750
Too much? We'll call you. Drop your number in the box:
Mon. to Fri.: available 24-hours Sat. and Sun.: 3:00 a.m. - Midnight (EST) Or call your preferred Travel Advisor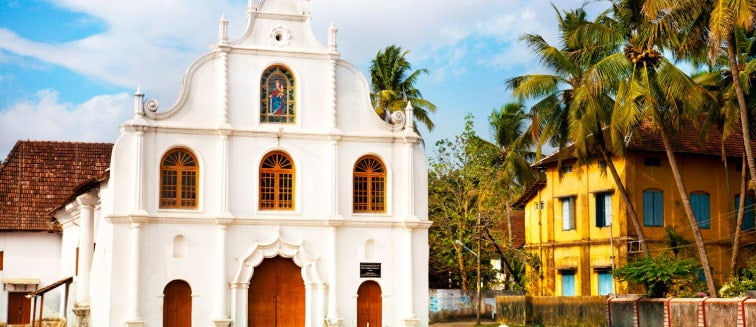 What to see in India
Kochi
Tourist attractions Kochi
A South Indian port city in the tropical state of Kerala, Kochi rises from the coastline of the Arabian Sea in all its historic glory. For centuries it's been famed as an important centre of the spice trade and from the 14th-century onwards it has possessed strong trade links with Arab merchants. Portuguese colonialists also left their mark on this metropolis, still seen today in the charming old town.
Kochi was, in fact, the first European colony in India. Holidays to Kochi are gaining in popularity as Western tourists descend on the port city, using it for a base for greater exploration into the state of Kerala, such as to the sleepy backwaters and Ayurvedic retreats of Alleppy and Kumakaron. Due to its heritage as a thriving trade port, Kochi has an amazing mix of cultures; mosques rub shoulders with synagogues and ancient Chinese fishing techniques attract onlookers along the coastline.
Plus, there's no shortage of trendy cafes, intriguing cultural sights and artisan workshops to whet the appetite of even the most intrepid travellers during a tour of Kochi. There's plenty of things to do in Kochi and you're sure to fall for the cosmopolitan culture, chocolate-box colonial architecture and east-meets-west vibe. In parts ultra-modern and in other parts, unrelentingly traditional, a trip to Kochi is perfect for first-time travellers to India. 
Highlights of Kochi
With so many things to see in Kochi, it's hard to know where to start. Perhaps the most characteristic sight in the city is the Chinese Fishing Nets, immortalised in many a photograph and truly an icon of Kochi and it's multi-cultural heritage. Located along the shoreline in the historic district of Fort Kochi, no visit to the city is complete without contemplating this spectacle, an ingenious feat of ancient engineering.
Fort Kochi itself is the perfect place to enjoy a sundowner drink whilst looking out to sea or tuck into the local cuisine in any number of cosy, yet chic, cafes and restaurants. Aside from the idyllic seaside atmosphere and charming mix of European architecture, there's plenty of quirky boutiques selling authentic local wares as well as a Naval Museum and art galleries.
Want to delve further into Kochi's colonial past? Head to the fascinating Portuguese Palace, gifted to the King of Kochi by the Portuguese in 1555 and later renovated by Dutch colonialists. Built in a traditional Keralan style, it's interior walls are adorned by fantastic murals depicting Hindu stories. Another emblem of the colonial era, St. Francis Church is a must-see on a tour of Kochi. Here you can trace the struggle of European powers in India across the centuries. It is also the burial place of Vasco da Gama, famously the first European to reach India by sea. 
Copyright 2013-2023 Exoticca. All Rights Reserved.
Exoticca Travel Canada Inc 229 Yonge St Suite 400 Toronto, Ontario M5B 1N9 Canada