Call us toll-free now
Book with an expert for free:
1 778 807 9750
Too much? We'll call you. Drop your number in the box:
24 hours a day, 7 days a week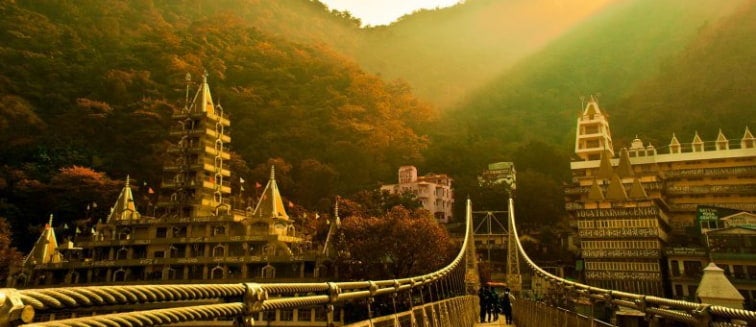 What to see in India
Rishikesh
Tourist attractions Rishikesh
Embark on a spiritual journey to one of India's holiest cities, where nature and belief fuse together and pilgrims flock to show their respects. Rishikesh, a city in the north Indian state of Uttarakhand, is characterised by its two great natural and spiritual wonders: the Himalayas and the eternal River Ganges.
It is true to say, a trip to Rishikesh is a very special experience and devotees, celebrities and believers have all made the journey to feel its distinctive atmosphere themselves. Most famously known as the 'Yoga Capital of the World', it is home to a number of 'ashram' yoga and meditation centres where you can receive the best teaching and training available from gurus and swarmis of high acclaim.
The ancient Indian medical practice of Ayurveda is also prevalent in Rishikesh. Along the banks of the Ganges, considered sacred in Hinduism, temples have been built in large numbers, attracting pilgrims from across the country and the world. Without a doubt, this part of India has a special atmosphere, where the winds that come off the Himalayan foothills seem to carry a spiritual power all of their own.
The climate is much cooler here than in other parts of the country, creating an environment of verdant hills and leafy enclaves, making a retreat in Rishikesh the perfect antidote to your busy life and the sweltering summer temperatures of the lowlands. 
What to see in Rishikesh
Other than soaking up the scenery, spirituality and serenity of Rishikesh, there are a number of sights that you should visit in between your yoga and meditation sessions. Perhaps the most globally famous attraction is the Maharishi Mahesh Ashram, a historic yet dilapidated former transcendental meditation ashram and the location where the Beatles famously penned their White Album.
Today home to Beatles-related murals and dedications to the band. Its unique cultural value makes it an unmissable stop on a tour of Rishikesh. Want to feel the force of nature and admire some of the areas more breathtaking river-to-mountain views? Head to Lakshman Jhula Suspension Bridge, which spans the sacred River Ganges, connecting the two villages of Tapovan and Jonk. If you're eager to dig deeper into Hindu spirituality, spend some time at Triveni Ghat, the biggest and most famous in Rishikesh where you can watch or even partake in ritual cleansing ceremonies in the fast-moving waters of the Ganges.
OUR BEST TRIPS TO RISHIKESH
Copyright 2013-2023 Exoticca. All Rights Reserved.
Exoticca Travel Canada Inc 229 Yonge St Suite 400 Toronto, Ontario M5B 1N9 Canada